Social media campaign tools can save you from developing and maintaining bespoke social apps
Popular social media management tools such as HootSuite are great for posting simple social media updates, interacting with your followers and tracking responses. But their capabilities can be lacking when you want to use more interactive tools like surveys or contests to engage your audience on Facebook and other social networks.
I've recently written a report for Smart Insights members where I compare social media campaign and community-building tools which reviews the options in detail.  In this post I give a flavour of what some of these tools offer. In the guide we review the alternatives and give examples of campaigns created with each tool to inspire campaigns.
The benefits of using social media campaign management tools
The main purpose of the tools featured is to help marketers and agencies go beyond basic status updates to launch promotions and create interactive content marketing features such as surveys, quizzes, coupons and sweepstakes. Some other features of the platforms investigated may include:
Social media management. Content publishing (eg. status updates, images, video and links) and social network monitoring. .
Community-building. Through running regular campaigns and offers, you should be able to increase follower engagement
Data collection. Run campaigns that will collect useful data for marketing or research purposes
Social CRM. Create, manage and segment your lists
Team collaboration. only allow specified users the ability to publish content and/or campaigns
'Sharing' functionality. To help your campaigns or pages go viral.
Analytics. Measure the performance and engagement of your campaigns
A key benefit of using one of these emerging services is that you avoid the development costs if you commission an agency or use an in-house developer to build the applications for you. Bespoke developments can give challenges for managing these tools too. When writing the report I spoke to David Coombes, Senior Marketing Executive for outdoor clothing brand, Berghaus who describes his experience:
"We found that bespoke applications were expensive to build, needed to be planned well in advance and needed to be maintained as Facebook changed the dimensions of pages recently leaving us to rebuild previously built applications."
A new generation of social media platforms have emerged, which take a lot of the development burden away from you. By providing you with a suite of highly customisable applications, some platforms will have you will be publishing campaigns in minutes, without having to worry if Facebook unexpectedly decides to release another one of its design changes. Of course, bespoke applications can give you better customisation and integration with your systems, but increasingly these services offer integration with a CRM   system to profile your audience and to follow-up with email marketing.
Wildfire promotions (Sweepstakes)
Wildfire is one of the most comprehensive within our guide. It was recently purchased by Google. You can opt for the full suite or pay for a promotional campaign only on a pay-as-you basis. The full suite has social media management features that can help manage messaging and advertising across social networks.
Recently, Berghaus ran a sweepstakes competition on Facebook using Wildfire. The prize, 2 tickets to Autana at Kendal Mountain Festival and a signed DVD. When Facebook users enter the competition, they can also enter details about themselves and have an option to sign up to their newsletter (for more competitions and updates). The prize itself is likely to attract the 'outdoorsey type', just the right type of audience for Berghaus to build a list.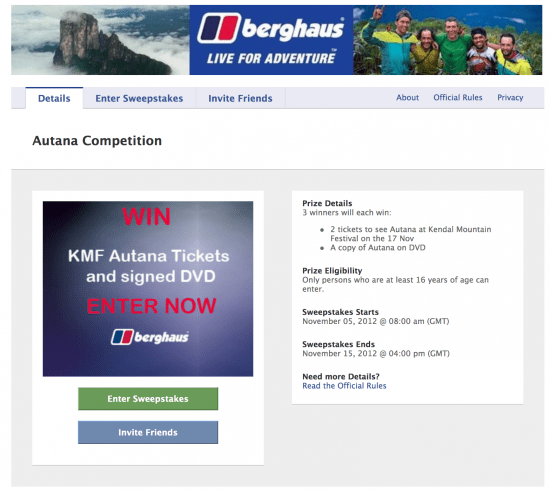 Shoutlet (Shop & Share)
Shoutlet is one of the more advanced tools within our guide. It sets the benchmark in terms of innovation, but that innovation comes at a price and so it is not the most accessible in terms of cost.
The tools within the suite are useful for collaboration for larger teams since you can set a publishing workflow of content and campaigns that need to be published that trigger when certain criteria is met. Here is a social commerce example.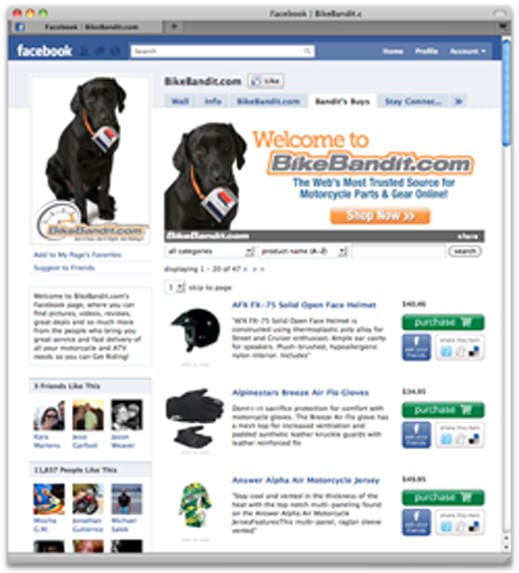 Having products embedded in Facebook pages, with links to your store, encourages users to shop socially, share products with friends, get advice, and weave online shopping with Facebook activity.
North Social
North Social has a suite of apps, they refer to as their 'app buffet' which includes deal sharing. When someone interacts with the deal share app, they are presented with information on the page as to how many registrations are required to activate the deal, it's status, registration limit and the time left before the deal becomes inactive. To register for the deal, the user must share it with their friends and register their name and e-mail through a sign-up form.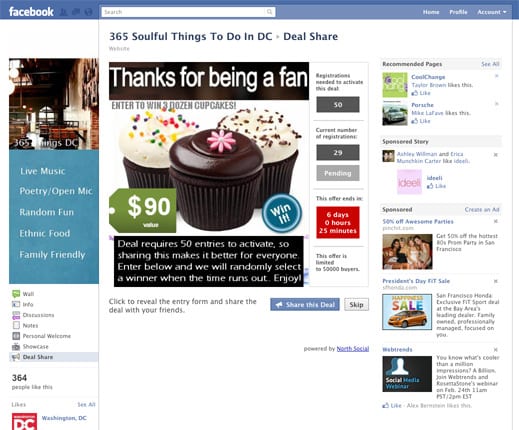 To notify entrants of the status of the deal once it has closed, data from the campaign can be sent to North Social's own 'Social Contact' CRM extension, which can be used to build, lists. Or, more helpfully, the data can be exported to Excel for you to import into your own CRM or email marketing system.
Conclusion
If you have thought about developing your own social media apps, you might want to reconsider and try one of the platforms we recommend. Some give you the option to pay-as-you-go if you want to assess their effectiveness. Also, using such platforms will take away any risk associated with any radical changes on social networks.