New report shows the level of amplification you should expect from Facebook
I've written before that "fans are vanity, engagement is sanity" in relation to Facebook brand pages. A new joint report, The Power of Like 2: How Social Marketing Works produced by comScore and Facebook has been published that further stresses the effectiveness of engaged fans to a brand's return on investment. It states
"While the vast majority of large brands today have an active social media presence, there continues to be an over-reliance on simple counting of Facebook Fans as a key performance metric."
Whilst I am inherently sceptical of any report funded by a platform which stands to benefit financially from many of the activities it recommends, there are some genuinely useful data and insights in this report. It also digs a little deeper into Facebook's Insights data – available to any Page owner and specifically references the metrics that make up the PTAT (People Talking About This) score.
To my mind a high PTAT is significantly more valuable than tens of thousands of fans. So what makes up this metric? PTAT measures fan engagement by counting any type of direct interaction with a Page such as initial liking, liking specific content, posting to a wall, commenting, sharing content, answering a question or checking in. Be aware that the PTAT score showing on each brand page also adds in any newly acquired Page likes (i.e. new fans) and many studies into PTAT exclude these new fan numbers as they may skew the underlying data.
So far then we have two possible metrics for measuring a Page's effectiveness:
Fan numbers
PTAT (people talking about this) – We will call this Engagement
What else is possible?
The paper suggests two further metrics: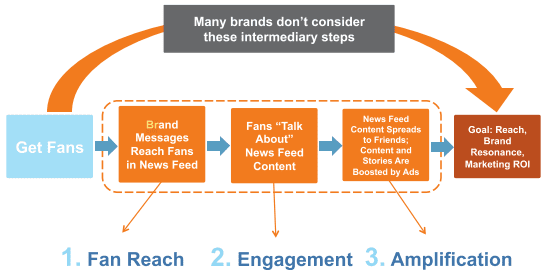 Let's review what what these KPIs mean and their relevance:
Reach comprises a number of segments – Organic Reach is the number of people who have seen any content associated with your Page. This may be on your wall, on their timeline (if they are a fan and if the algorithm is such that they see the content), or on their ticker. It comes as no surprise that Reach can be significantly increased by paying Facebook for Ads, Promoted Posts, Sponsored Stories. This is Paid Reach is when an individual sees your content via an ad. Each of these metrics (and many more besides) are available post-by-post in Facebook Insights.
Amplification is probably more commonly understood in terms of viral marketing (and indeed Facebook Insights generally refers to amplification metrics as viral metrics).  The new research shows that for the top ten corporate brands in the US, the average Amplification Ratio average was 1.05 (Range: 0.42 to 2.18). Comscore describes this as "a metric that divides the number of Friends of Fans reached by the number of Fans reached with earned media, or the number of impressions reaching each of these segments".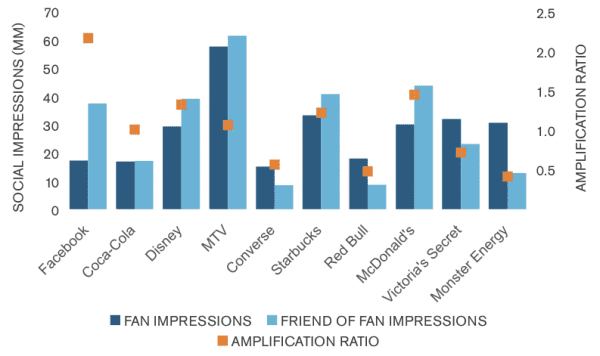 Viral Reach occurs when someone sees that content via a friend's activity (such as a share or comment). When designing ads for Facebook, you can even select to only advertise to Friends of your existing Fans. Not only is there a proven uplift in the Sponsored Stories type ad (where an individual is more likely to click on an ad because their friend is named as liking the Page or Content), but it stands to reason that your social circle has a higher propensity to like similar things to you than the rest of the population – that's one of the reason you are friends in the first place.
So brands are using their Fans as conduit for brand exposure to their Friends. Because the average Facebook Fan has hundreds of Friends, each person has the ability to potentially reach dozens of Friends with earned impressions through their engagement with brand messages. According to comScore and Facebook,  the average brand message from the Top 1,000 brands on Facebook is able to deliver an actual amplification of 81x if Fan Reach efforts are maximized (although the ratios shown in the graph above suggest it's a long way short of this on average).
ROI of Amplification
The research carried out by comScore and Facebook examined the social media presence of four leading retailers – Amazon, Best Buy, Target and Walmart – to determine how their social assets were leveraged to engage, and hopefully influence, customers during American "holiday" seasons such as Black Friday.
The results showed significantly higher rates of purchase among Fans. Amazon Fans spent more than twice as much at Amazon as the average Internet user while Friends of Fans exposed to Facebook messaging spent 8% more. For Best Buy, Target and Walmart similarly strong spending indices were evident among Fans, but the brands also had stronger spending indices among Friends of Fans, (perhaps reflecting the strong promotional efforts of these three brands during the holiday season).  This empirical evidence that exposed Fans and Friends of Fans have higher spending behaviour strongly supports the importance of reaching these buyer segments. They are substantially more valuable consumers in terms of actual purchase behaviour whether or not earned media exposure actually influenced their purchase decisions (and of course this research does not categorically prove the link).
If social media ROI is of interest to you I would recommend you read the report in full. It covers far more than I have in this post. At the very least it adds to the voices calling for Engagement and Amplification to be better metrics than the vanity that is Fan numbers.