30+ ways LinkedIn can help you and your business
September 2016 update
LinkedIn recently announced that they now have over 450 million users as shown in their global infographic below.  It's a reminder that LinkedIn gives great opportunities to connect and communicate for both individuals and businesses.
2016 also brought the buying of LinkedIn by microsoft, a huge move and one whose ramifiacations will be felt throughout the rest of this year and into 2017.
We've updated our A-Z checklist of all the features we cover in our LinkedIn Marketing guide 2016 to summarise the main features that are available for individuals and businesses to boost their profile on LinkedIn. We also update on what has been retired... since LinkedIn is a moving target.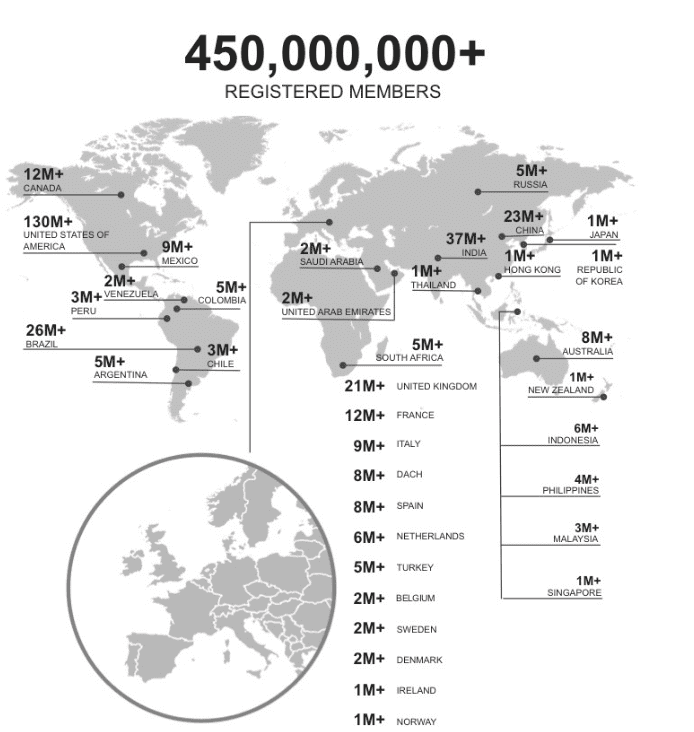 The 30 core features of LinkedIn - how many are you using?

These are the main features we think you need to be aware of on LinkedIn. Review which of these LinkedIn features you use to see how you can make more use of LinkedIn.
Note that some features you may have heard about have been withdrawn by LinkedIn that you may not be aware of that we keep for completeness (*).
1. Activity Broadcast. Activity shared on your LinkedIn page and viewed by others, depending on the settings chosen. This includes group membership, comments, profile changes and application downloads. It will show when you change your profile, make recommendations or follow companies, etc.
2. Ads. LinkedIn has targeted ads which enable you to post pay-per-click ads to target users by their role. They can be text ads or video ads which can be AB tested to find the most effective ad creative and message.
3. Apps (*). Applications were provided as options to share your content from other sites seamlessly on your profile. The Amazon reading list app, Slideshare and WordPress blog sharing tools were the best known. Apps are no longer available, but a similar feature is now available when editing the profile summary since LinkedIn owns Slideshare and you can also add YouTube videos.
4. Advanced Search. You can find influencers to connect with using this approach rather than standard search which works best for known connections.
5. Ask Questions (*). A feature to ask Questions where other members could reply. This feature was removed end of January 2013. Many companies are now turning to Quora as an alternative.
6. Company Page. A page on LinkedIn where a company can list their products and services (via Showcase Pages) and share promotions, news and content through Status updates. More recent than Facebook brand pages and less widely used. We cover the best way to setup a profile in Step 1 of the guide.
7. Company Page - Products and Services (Discontinued): This is no longer available, and has been replaced with Showcase Pages.
8. Connections. Members in your network on LinkedIn who you invited or have invited to connect with and follow. Through connecting you will receive their status updates.
9. Contact info. Links to your websites are available in the Contact Info section of your profile. Unfortunately, these now require a click to be seen by profile viewers, but don't forget to include your sites or other social networks.
10. Endorsements. These are endorsements for skills on individual profiles. They only require a single click so recommendations are a deeper level of endorsement.
11. Events. Event organisers could post their events and encourage attendees to note their attendance. This was withdrawn in November 2012. Many companies are now turning to Google+ Events as an alternative.
12. Followers. LinkedIn members can follow companies to keep abreast of their activity which will be displayed in your LinkedIn Home page in personal settings. You can choose to unfollow them by selecting 'Profile Following' and 'Unfollow'.
13. Group. A separate community discussion area created to discuss and share information around a topic.
14. InMail. A paid membership service which enables you to send a message to members you are not connected with.
15. Network and connections. Your network is the people you contact through your connections, consisting of 1st degree, 2nd degree and 3rd degree connections including members of our groups. 1st degree: people you have chosen to connect with; 2nd degree: contact of a 1st degree connection i.e. a friend of a friend. To connect, request an introduction through your 1st degree connection. 3rd degree: contact of your 2nd degree connection.
16. Polls (Discontinued). Create a poll to share with your status updates or within a Group.
17. Plugins. Use these widgets available from the LinkedIn developer page to embed content from LinkedIn on your site or blog to encourage interaction on LinkedIn.
18. Contacts  (Replaces Profile organiser). A enabling you to better manage the contacts in your network You can add notes to profiles, such as how you met and even add reminders so you remember to contact them at a later date. You can tag profiles and save them for later viewing.
19. Profile page. The home page for an individual member where they can summarise their career and information shared on LinkedIn. There are 'public' and 'private settings'. We cover the best way to setup a profile in Step 1 of the guide.
20. Recommendations. Recommendations are short written reviews of individuals from colleagues, customers or other partners.
21. Signal (Discontinued).  This was a useful tool for following streams within your sector since you can select by keyword and source of updates. You can now only search articles on the new publishing platform.
22. Skills. LinkedIn Skills shows the popularity of different roles and examples of the most followed networkers within them.
23. Tags. Use to categorise connections, so that you can follow-up with them using a message.
24. LinkedIn Pulse LinkedIn Today highlights the most popular updates on specific topics, so is useful for keeping up-to-date and finding content worthwhile sharing. Find out more about LinkedIn Pulse and there is a mobile app available.  It is integrated into the Default News Page.
25. Updates. Status updates are available via the company page and member's pages, for members to share advice, stories and opinions of interest with their connections. In company accounts, followers can be targeted by Industry, size, job function, seniority and location, employees and / non employees and statistics are available on the engagement with the posts. To post a status, this can be only actioned from your 'Home Page'.
26. URL. When editing the profile summary you can add a URL for some web services like Slideshare, WordPress and YouTube. This enables you to embed content in a similar way to the retired apps feature.
27. Widgets. Widgets help you integrate LinkedIn with your website or blog. You can encourage people to connect with individuals or share your content through sharing widgets.
28. Filter Emails: Instead of selecting emails to a group of connections by a specific criteria such as geography or industry, this has been replaced. You need to tag your lists and can email a max of 50 connections.
29. Talent Updates: For paid members, recruiters can search beyond their connections to find candidates and can also add Sponsored Job Listings:  - want this adding?
30. LinkedIn Publisher: This feature allows LinkedIn members to publish blogs on the platform, and their connections will get a notification when it is published. If a blog does extremely well and is shared and viewed many times in a short period it may feature in LinkedIn pulse.
Since features change through time, we alert members to major new features, before we add them to this guide on our blog via the LinkedIn Marketing hub.
What's new for 2016?
Here is a quick summary of the features that LinkedIn has added during the last 12 months