3 examples of integrating social media and email lead generation from small and medium businesses
Many businesses are wondering what they're really getting from the time they spend marketing on Facebook and, more importantly, how they can turn their hard-earned fans into customers.
To support the integration between social media and email marketing, Constant Contact created a tool, Social Campaigns, specifically designed to make it easy to get measurable results from Facebook marketing. With Social Campaigns, businesses can offer current and potential fans something special, such as exclusive content like prize draws or discounts that help grow their fanbase and generate sales, leads, brand awareness, and social word-of-mouth. The tool integrates with email to help capture email leads too. Dave Chaffey of Smart Insights asked me to share the examples since they show how Social and Email marketing can be used for Permission Marketing today using our tool or others. Editor's note: for another example of Social Campaigns, see how Expert member Scribbler's uses Social Campaigns to boost leads and sales.
So, what exactly is a social campaign? It's simple.
First, you build a great offer that lives on a gated tab on your Facebook Page— that means people will need to 'like' your Page to get it. Then, you promote the offer to your email list and social connections to drive engagement, action and social sharing.
In this article, we'll look at 3 Facebook marketing campaigns and their results.
1. Seconds & Surplus Campaign
£20,376 from a big discount
'What my campaign taught me was that it doesn't matter how many fans you have, it's what kind of fans you have', Jay McKeever, Graphic Designer
Impressing your new boss...
Jay McKeever was a Graphic Designer for hardware store Seconds & Surplus for less than two weeks when he decided he wanted to try using Facebook to help the business. He figured he would start off by trying to boost sales among the shop's 150 Fans by running a social campaign.
Seconds and Surplus is a wholesale shop where many sales are over £1,000. Jay offered a coupon for 10% off, which meant that customers could save quite a bit of money.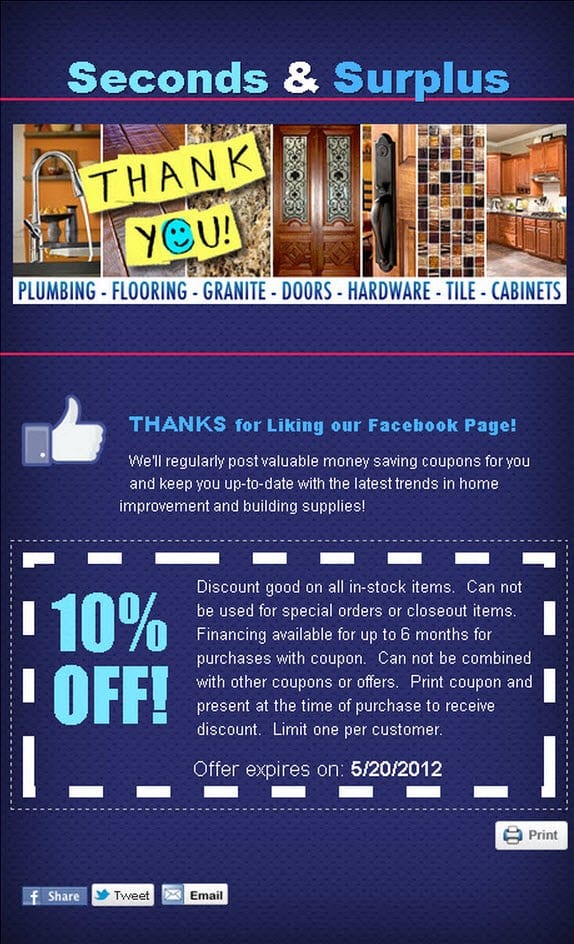 Jay sent an email to 7,946 email subscribers showcasing the new Facebook offer. He also started to regularly host Facebook surveys and quizzes, in addition to posting photos.
Jay launched the campaign on a Friday and, by Sunday, the discount generated £4,327. After one week, Jay says £7,495 in sales came directly from Facebook.
In one month, the campaign netted Seconds & Surplus £320,376. A total of 37 coupons were redeemed and the fan count for the Seconds & Surplus Facebook Page tripled, from 150 to 450.
2. PropertyMinder Campaign
Getting 584 White Paper Downloads
'We saw a number of new leads and sales from our social campaign', Glenn Zabal, Director of Marketing
 Giving out free advice for more fans...
PropertyMinder is a web service firm that specialises in solutions for real estate agencies. Glenn Zabal, Director of Marketing, wanted to find new ways to engage and grow his fan base, but also capture new leads.
'We wanted to position ourselves as experts in the field and used Social Campaigns to do it,' he explains.
PropertyMinder has run a total of four campaigns. Two were guides that Fans could download once they 'liked' the Page and the other two were like-gated webinars.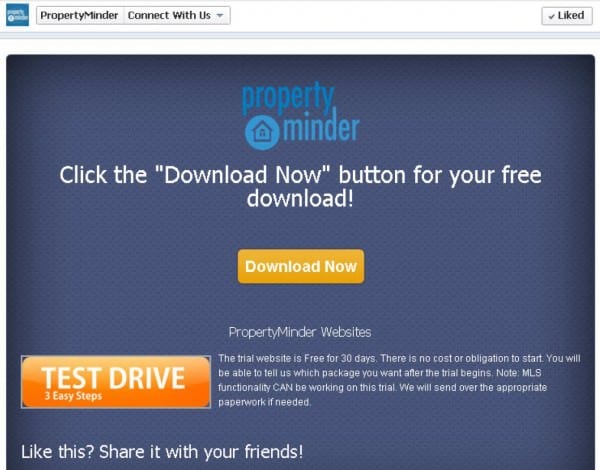 PropertyMinder promoted the campaigns via multiple emails, Facebook posts and the company blog, which showcased the offer by highlighting some of the campaigns' content.
The PropertyMinder Facebook Page gained 327 new fans from two download campaigns in three months. Overall, the two white papers were downloaded 584 times, which promoted PropertyMinder as a Thought Leader to a growing client base.
600 Facebook Fans, 96 New Leads
'We got an online order an hour after we put the campaign on our Facebook Page', Micha Foster, Manager
Sweetening the deal. Sugaree's Bakery had a somewhat active Facebook Page before 2012, but Manager Micha Foster says January was when the shop decided to get serious about growing an online presence.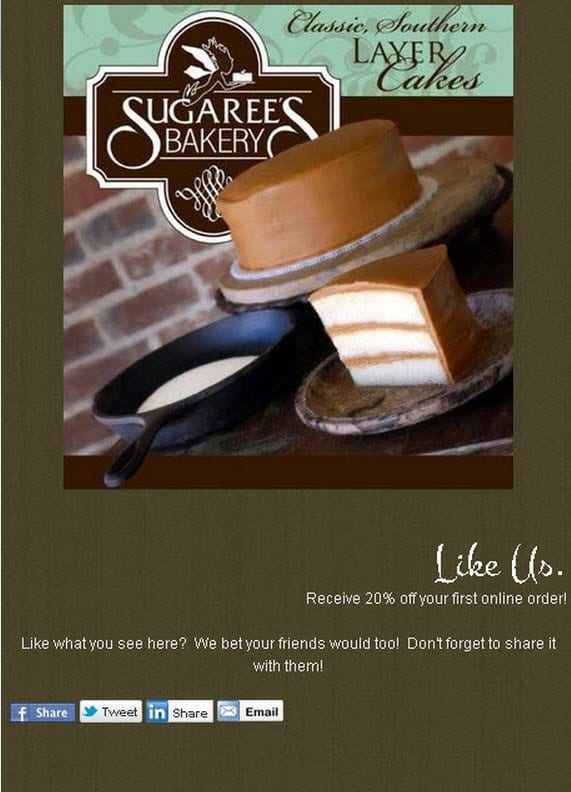 'We really wanted a way to promote our online orders, and Facebook seemed like the way to do it,' she says.
Micha launched a social campaign that offered a 20% discount to anyone who 'liked' the Facebook Page and ordered online.
Micha sent an email to the bakery's 2,988 contacts. She also had been using Facebook Ads to generate publicity for the Facebook Page, which resulted in about 300 new fans.
In February, the Sugaree's Facebook Page saw an increase of over 600 fans, which Micha says was from combining Facebook Ads and Social Campaigns.
The social campaign itself drove 96 clickthroughs to the online order form, which promoted awareness and generated quite a few orders.
So what does this all mean?
These twelve businesses ran very different campaigns. They all got results that surpassed their expectations. These stories show that Facebook can act as a channel that gets results for any company. However, we can see that engagement and promotion were crucial to the success of each one of these campaigns.
To launch an effective social campaign, every business had a very hands-on approach to keeping things coordinated. If you want to run a campaign that doesn't just grow fans, but grows sales, leads and brand awareness, here's a checklist you can use to drive results:
The Social Campaigns Checklist
The Offer. Before you start promoting and planning, think of what great offer you'll be sending to fans.
The Email. If you already have an email list, make sure to send an email specifically promoting your social campaign, then include it in each newsletter going forward.
Stay Social. Launching a campaign and then ignoring it will go badly. Make sure you stay engaged with fans. Look up Facebook best practices (see below) and go from there.
Keep Going. Each of these businesses started from a very different place when they launched their social campaigns, but they had one thing in common: they didn't give up.