Facebook lead ads just became an even more powerful B2B marketing solution
Importance: (For B2B advertisers)
Recommended source: Facebook for business
Back in October last year we discussed how the then brand new Facebook lead ads could be the perfect way for Facebook to grab a big slice of the B2B ad market and how lead ads can be extremely useful for B2B businesses for driving sign ups from mobile.
When they were launched lead ads were for mobile devices only. This made sense as they were brought out to fulfil a need: simplifying sign-up forms because frequently businesses own sign up forms were too complex to be easily used by a mobile device.
However, lead ads fulfilled an important business need, regardless of whether or not the customer was using a mobile device. Facebook have recognised this so are now making lead ads available on desktop. This is good news for businesses looking to drive sign ups to mailing lists or get qualified leads, as it will widen the pool of users seeing the ads.
Facebook has also announced a couple of new features for lead ads, which enhance their ability attract customers; carousel format and context cards.
Carousel format
This is a very simple change, but useful for companies looking to promote a range of different products at once, such as fashion retailers. Carousel ads already exist on Facebook, you've probably seen plenty of them. But now you can create carousel ads that have the 'sign up' or 'get quote' call to action button that takes people to a simple sign up form. Essentially merging the carousel and lead ad formats into one extremely useful solution.
Context cards
The context card is a new addition to all lead ads which allows companies to provide more information to clarify exactly what the user is signing up for or getting a quote for. This is very handy because it can be tricky to confer all of this information within the Facebook ad, as the ad is designed to attract clicks and thus should be as brief as possible. The context card appears after the user has clicked on the ads, but before they have to enter their details on the form. This can thus give the prospective customer more confidence that what they are signing up for is exactly what they want, and so should be more likely to give their details. You can see an example of a context card below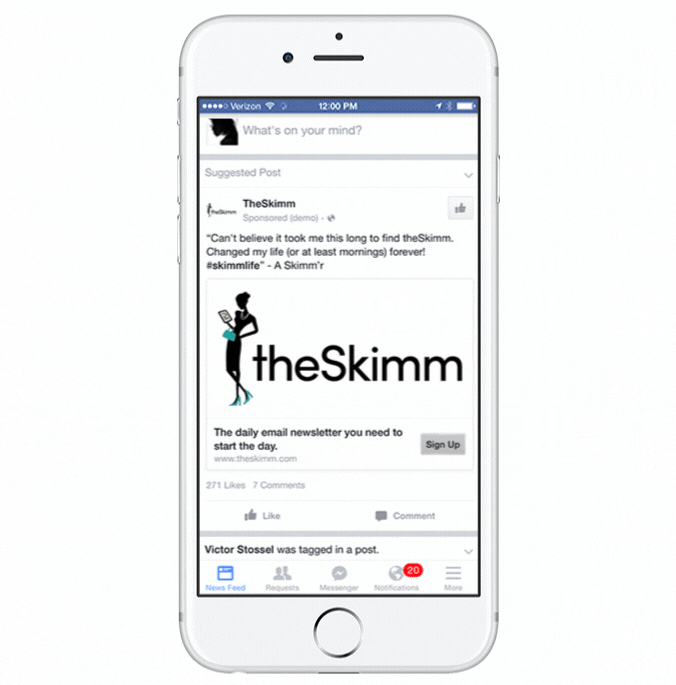 If you want qualified leads from Facebook then lead ads could be the perfect ad format for your business. Set up a small test, work out what you are paying per lead, calculate how much you are generating in revenue from those leads on average, and then expand the ad campaign if its generating profit. Easier said than done, but as far as advertising campaigns go it doesn't get much simpler. The new features are available in power editor now, so you can get started right away.