New Global survey reveals variation in Facebook ad clickthrough rates and cost per click
Value/Importance: ★★★★★
Recommended link: TBG Digital UK
Our commentary
TBG Digital are one of the largest agencies managing Facebook advertising campaigns worldwide, so it's interesting to see their summary of trends in effectiveness in Facebook advertising across different sectors. This new research, released today, is based on 326 billion impressions for 266 clients across 205 countries.
Facebook advertising clickthrough rates
Although we only have an index rather than absolute clickthrough rates, it's interesting to see that clickthrough varies dramatically across sector: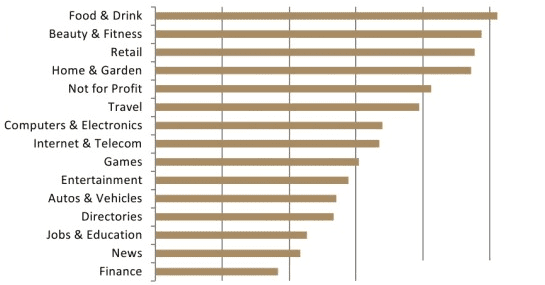 As would be expected lifestyle-related sectors are highest, but transactional sectors like Retail, Travel and Computer and Electronics aren't significantly lower. As might be expected Finance is at the base of the league table.
Facebook advertising cost-per-click (CPC) rates
Again it would be good to have specific CPCs, but this data is useful in that it shows there has not been a significant increase in CPC across these markets in 2011 apart from in the US. Indeed UK CPCs have fallen by 10%.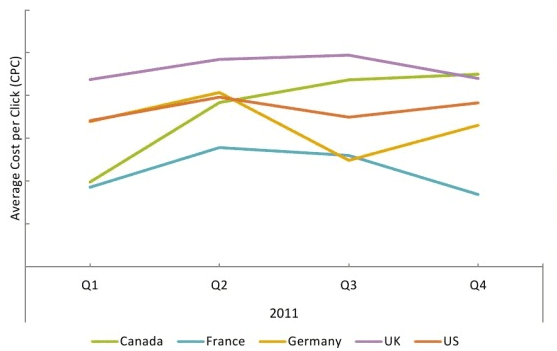 Cost per Thousand Impressions (CPM) rates, however have increased. This indicates how much Facebook earn every time an advert is shown to a user. CPMs have increased by 8% on average over the quarter. This takes the total increase for 2011 to 23% and means that Facebook has earned substantially more during the course of the year from its advertisers due to changes to ad placements within the template layout.
Key finding – Keeping traffic within Facebook can reduce CPCs by 45%
The biggest takeaway from this report is that lowest Cost per Click (CPC) rates are available to advertisers running campaigns that *recruit fans directly within Facebook *, or require users to install applications. Savings reached 45% compared with those that directed traffic away from Facebook – a strong incentive for companies to build their presence within Facebook. For example, financial services firms often direct users back to their own websites to complete a quotation or sign up process but building tailored applications that perform the same function within Facebook sees a reduction in advertising costs.