It has never been more important for digital specialists to break out of their individual silo and engage key stakeholders across the business operation.
As digital communication channels develop, as search engine algorithms change and as new platforms and trends emerge, many enterprise-level organisations are in a constant race to keep up with the rate of change in digital.
Modern SEO now requires digital specialists to engage stakeholders across an organisation in order to deliver the consistent and effective experience that consumers – and by extension, search engines – are looking for. SEO is not just a single technical function and digital is no longer a single discipline that is removed from the rest of the organisation, it is a critical component that relies on an enormous range of skills and resources.
SEO requires a balanced approach
A lot of SEO specialists, digital marketers and agencies will focus very heavily on the creative side of digital. They will be focused heavily on big creative campaigns, bold content ideas and whilst that is undoubtedly a part of the mix, it often results in a neglecting of some of the fundamental technical elements that, whilst perhaps not as influential as they once were, are still hugely important to any digital strategy. This vidual shows what we see as the main factors influencing SEO success today.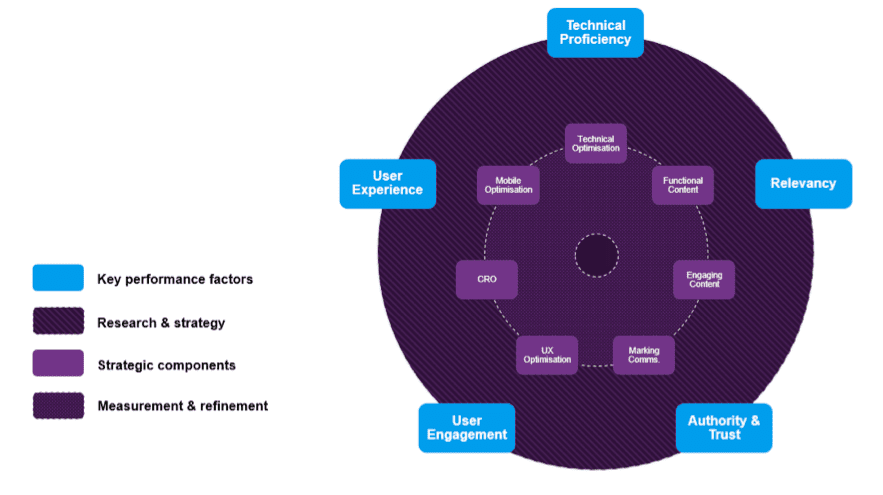 No digital strategy can work effectively if it does not fully balance the needs and demands of each of these core key performance factors and, in our latest guide 'Redefining SEO', we explain just how these factors blend together as the foundations of your digital strategy. A strategy that is too heavily balanced in one particular area is unlikely to deliver successful results.
All of these key performance factors require a wide range of skillsets and resources and it is the role of digital experts to bring these elements together.
User experience, for example, is influenced by a range of various departments and business operations. These can include core digital skills, such as design and IT, but also non-digital skills such as branding, PR, business strategy and even customer service.
This is where the modern SEO needs to be across all elements of the marketing and business operation. If you are looking at enhancing your digital experience, you need to be able to sell this to your colleagues across the organisation and be comfortable that all elements of the business operation can deliver what is required to achieve this.
Identifying key business challenges
In order to deliver a successful strategy, marketers need to identify the respective strengths and weaknesses of the product, service or organisation. Their role is to talk up the strengths, and to mitigate, downplay or tackle the weaknesses.
A significant challenge for many marketers is bridging a disconnect between the marketing communications and the end user experience that is delivered by the brand. Brand communications is ultimately tasked with delivering an expectation and a vision and if this expectation isn't met, it has the potential to severely undermine the brand.
When developing your digital strategy, you need to understand where these business challenges lie and how they have the potential to impact on your communications strategy. If social media is a significant part of your strategy, are your customer services teams trained and equipped to handle customer queries and complaints effectively? Are there limitations in business logistics that could create a barrier to conversion, or is your IT infrastructure not yet configured to support the initiatives you would like to implement? If these aren't addressed, they could damage the user experience that you are trying to deliver.
By being across all of your organisational departments, it becomes easier to understand exactly where the business challenges lie. You can then make an informed decision on how to address and reflect these strengths and weaknesses in your digital communications strategy.
Understanding how you engage your audiences
The way that consumers behave online is evolving. Today's consumers are more agile, more demanding in their expectations of brands and more difficult to engage. They are less loyal to brands, they are driven by different things and they are very quick to express their opinions online.
Search engines have been quick to adapt to these changes, and Google in particular is incredibly agile at responding to new technologies or consumer trends and, in some cases is investing heavily in many of these new technologies itself.
For enterprise level organisations, this level of agility is somewhat more difficult. Multiple stakeholders, each with individual agendas, responsibilities and KPIs are often difficult to engage, making it difficult to force through cultural change. But digital is now everybody's responsibility.
Google's its algorithms are now placing greater influence on ranking factors relating to engagement, such as content, user experience and user engagement, as we can see from the correlation graph below. Factors such as 'links and authority', whilst still important, are declining in influence whilst engagement factors are becoming more influential.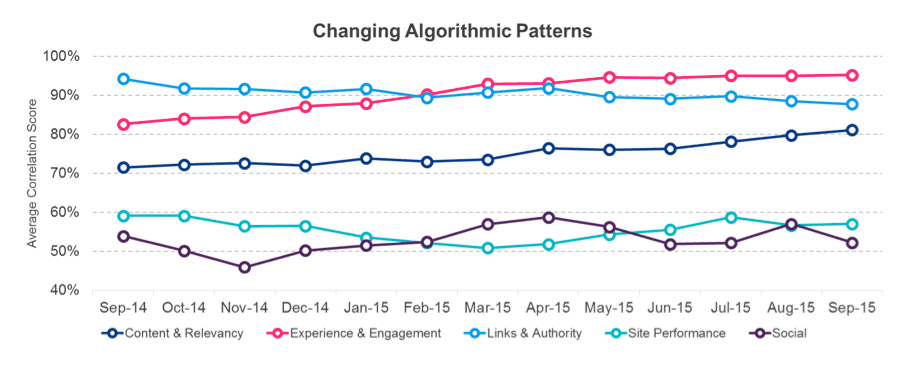 These factors demand much more than digital and technical proficiency, they require a complete understanding of your target audiences, and how they behave online.
Where this cross-team and cross-departmental collaboration becomes important is in the development of a strategy that works to enhance a website on the increasingly important ranking factors that we discussed earlier on. A common challenge for those tasked with delivering digital growth is in aligning their needs with the needs of their colleagues in other departments, and relying on the skills and resources of other departments.
Content, PR, branding and customer experience does not work without a detailed understanding of who your audience is, where you can find them, and what they are actively looking for.
Many organisations have a good idea of who their customers are, and this will usually be widely publicised throughout the business in the form of customer personas. Typically, they will look like this:
"Our target demographic is female, 22-49, married with children, with a household income between £20k-40k. Our value product is at the heart of their everyday lives."
But of course, your online audience might be a bit different to your customer demographic as a whole. So you need to use multiple data sources to help develop a more complete picture of your digital customer, their demographics, behaviours and interests. Do your audiences use particular social networks? Are they more likely to search via mobile? Do they gravitate towards certain content mediums more than others?
You need to understand the nuances of how your audiences behave on different channels.
Overcoming objections
Practically any digital innovation has the power to significantly alter the way in which consumers behave and interact with brands, products and services. Whether it is the fact that TripAdvisor has empowered anyone to become a travel critic, or services such as Netflix and Amazon driving a huge surge in so-called "chord cutting" that threatens established business models.
The survival of any established brand lies in their ability and agility to respond to that change. Consumers are incredibly quick to embrace new developments, and established organisations need to match that pace.
The problem is that so few brands are structured, and able, to respond at the pace necessary to keep ahead of these changes, and this problem is particularly acute in organisations with large staff headcounts, multiple offices across different time zones, multiple stakeholders and multiple external agencies.
An Econsultancy report in June 2015 found that "keeping up with marketing technology", "IT bottlenecks" and "a lack of testing time" were amongst the biggest headaches for marketers in driving forward change and innovation.
This is where an understanding of the needs and pressures of other marketing departments can be a huge benefit to the digital marketer.
If you are simply approaching people looking for them to help you, you're going to simply land in their 'in' tray along with everybody else. That problem is exacerbated if they don't particularly understand what you need them to do, or if they don't see the value in doing it.
Your colleagues are more likely to be receptive to what you have to say if you can solve their problem as well as your own. If you can understand how their individual challenges influence yours, and vice-versa, you can break down these barriers, get then on side and get these key resources bought into the challenge that you are trying to address.
Our latest guide, 'Redefining SEO: What your agency should be telling you in 2016', explains in more detail some of the techniques you should be using to encourage your entire organisation to think about the role that digital plays throughout the business, and to become invested in supporting your brand's digital success.