Bing Updates Webmaster Tools & Brings Back Site Explorer
Value/Importance:
Recommended link: Bing Webmaster Tools
Our commentary
Bing have made a huge number of updates to their webmaster platform in an update they have called Phoenix (original). The changes cover the following areas of their platform:
New : Link Explorer
New: User Experience
New: SEO Reports
New: SEO Analyzer
New: Fetch as Bingbot
New: Canonical Alerts
Updated: URL Removal Tool
Updated: Keyword Research Tool
Updated: URL Normalization
Safe to say the Bing Search team have been busy. The highlights for me, from an SEO perspective are the SEO Analyser & Link Explorer which I look into more below.
The new look interface, displayed below makes using the platform much easier and makes great use of simple data to create the powerful dashboards.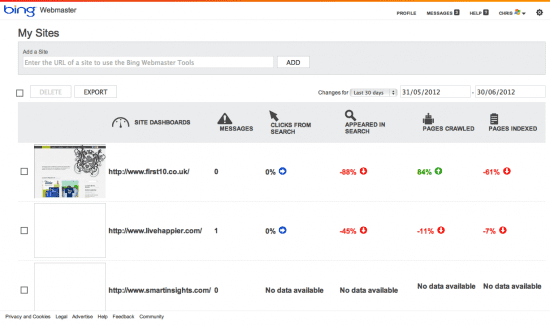 Marketing implications
Great insights at no cost
A lot of SEO specialists undoubtedly miss the Yahoo Site Explorer tool, it was a great and in-depth resource available for free. Other tools such as SEO Moz & Majestic SEO all restrict the volume of data until you cough up for one of their subscriptions. Unlike these services Google and now Bing have genuine reasons to give these insights away for free.
Google has always been the weaker service in this area (I still see people say use "link:" Doh! - It's well known to miss a lot of links and therefore wasn't a trusted source. The new tool is much what you would expect from the old Yahoo Site Explorer, allowing you to:
View a trend report going back 6months
Analyse links into specific pages of the website
View anchor text relating to the inbound links
Export all data into Excel to manipulate / analyse further
This data is really useful for understanding your current back link profile, enabling you to focus your efforts whether it is volume, quality or anchor text specific (or a combination) that is highlighted as a weakness. Obviously, tracking change based on your actions is kept simple and within the same tool, so always comparing apples with apples.
SEO Reports & Analysis
The new SEO reports & analyser tool is a great new addition to the Bing platform giving you access to optimisation tips & errors based on Bings index of your website. Similar to other on-page analysers but directly from the search engine which can never be a bad thing. The SEO Reports run bi-weekly, described below by Bing...
This feature runs a cycle of "every other week" automatically scanning the sites verified in your account. The report produced will give you guidance as to whether you are in or out of compliance with SEO best practices at a page level, for each site in your account. To scan new pages for SEO compliance, please see our SEO Analyzer tool.
As it mentions, the SEO analyser tool is more instant but done on a page by page basis where as the reports will return any number of optimisation opportunities from the entire crawl of the website. A great place to check every 2-3weeks for low hanging fruit / easy wins.
Useful features you may not know about
The Bing toolkit now has many tools that you may not have discovered as yet or know about but well worth checking out, I am sure it won't be long before we see some make their way to Google Webmaster Tools too..
Disavow links (ability to say "discount this inbound link")
URL parameter configuration (ability to say ignore URL parameters if it creates duplicate pages etc)
Index explorer - Ability to browse errors on your website from 404's to malware etc. Comes with some filters for time, error type etc too which is handy
Ultimately I think this is a really positive update from Bing, a great tool kit for webmasters, whether small or big sites it has some useful features and reminds us that Bing is there and doing well in some countries in terms of market share, a long way to go granted but on the radar undoubtedly. Well worth signing up to Bing Webmaster tools if you haven't already and submitting your websites, working through the various tools always highlights opportunities.