Using SEO analysis tools to identify linking opportunities
In the latest article in this series on how to use analytics techniques for better SEO we look at the importance of targeting relevant domains for your link building.
I'll start by introducing what you should look for in quality link sources and then in Part 1 of this two part article, I'll cover how to select domains to target through link-building tools. In Part 2 I'll drill down to cover how to analyse existing links using web analytics tools.
Not all links are born equal
You'll know this! The impact of a link rests on several factors, not least the reputation of the website it resides on. Search engines place a great deal of importance on quality, relevance and trust. This is a deliberately simplified explanation, but the three signals combined make a heady cocktail of link love. My advice is that if you focus on these three elements, you'll go a long way to building quality links naturally. Then you can think about the bells and whistles.
You'll know that a destination page where content closely matches the content of the webpage linking to it (common keywords in page titles, body copy and anchor text, etc) sends a strong relevance signal.
Social signals are increasingly important in the trust signal too, so a link that gets a lot of shares from different visitors indicates a webpage that is relevant – your webpage shouts out loud. Domains with good authority and a reputable history send a strong quality signal.
The core characteristics of high value links
There are common characteristics of 'high value' links and understanding these will help you understand what type of domain you should be targeting:
1. The link is contextually relevant to the webpage on which it is found (i.e. a link for "cheap car insurance" on a webpage for planting advice for clay soil is a red flag, particularly with the new Penguin update)
2. The link directs users to a webpage that is relevant to the source webpage i.e. the right context of the link (if not, big bounce rates for you and you're begging search engines to devalue the link)
3. The link uses keyword rich anchor text that accurately describes where it is taking people
4. The link is visible to both visitors and search engines (cloaking or hiding links smacks of poor usability or deliberate spamming)
5. The link resolves correctly to the destination URL to ensure a smooth journey
6. The link can be followed i.e. it does not have a 'nofollow' attribute attached
7. The source of the link ideally has a positive domain authority and trust including social signals
Now let's see how this translates into domain targeting & analysis.
Part 1 – Selecting which domains to target for link building
What is a quality domain?
1. Audience relevance
A focus on quality means building links with domains that provide content and/or products and services that are relevant to what your website is about. If there is a logical fit between the domains, evidence shows that there is a higher propensity for links to dive traffic instead of simply acting as a faint ranking signal. The closer the demographic fit of the audience of potential linking domains to your current website customers the better.
2. Domain history
To find this you can use the WhoIs record to find out how long the domain has been registered and any previous incarnations. You can then check the history to make sure there isn't a shady past of dodgy domains that keep getting reinvented under a new name.
3. Domain authority
When search engines evaluate the link ranking signal, they look at the domain authority of the external domains linking to your website. Therefore, it is in your interests to prioritise link partners whose domains are well established. That doesn't mean exclude domains that currently have a low authority – if they are relevant and you expect their web presence to increase, they can add value. However, old domains that have always had a low authority and are doing nothing to change it don't represent a good opportunity.
What free tools you can use to evaluate this?
Please note I'm focusing on free tools for this article. There are lots of very cool paid for tools that can go even further but if you're starting out, go free and learn, then invest when you're ready to get value for money – don't drown in functionality that you can't yet use.
Mozbar from SEOMoz
If you're serious about SEO, you must install the SEOMoz MozBar, a free browser toolbar compatible with Firefox or Chrome. This provides domain rank information within your browser toolbar: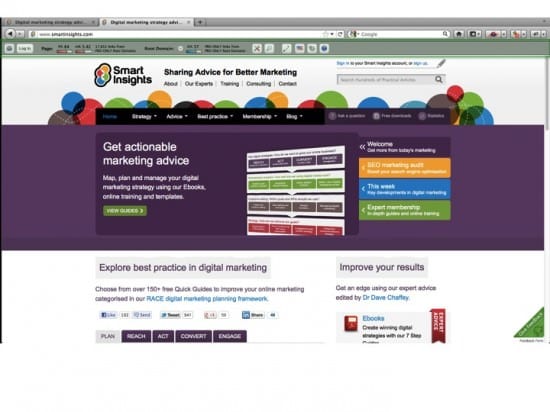 It has the added bonus that when you do a Google search with this installed, you can see domain rank for each website: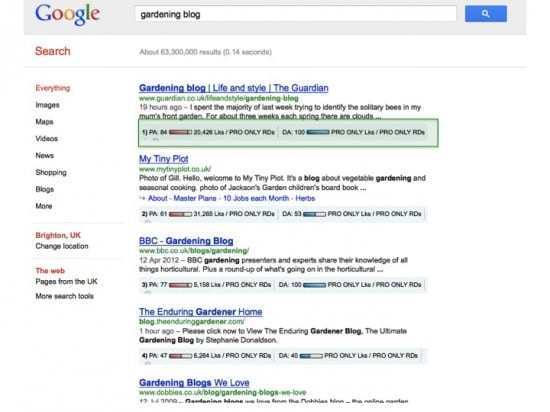 Alexa
Alexa is great for giving you current traffic rank and basic performance data for domains, including engagement metrics like bounce rate and page views [Ed: The Google AdPlanner is more accurate for larger sites]. Note that Alexa doesn't rank every domain on the web, so if the domain you are interested in has low traffic and limited activity, it's likely Alexa will have no data. Where it is useful is for established domains with a decent level of traffic as you can quickly see whether or not the traffic is growing or in decline, as well as identifying seasonal spikes which indicate in which months the domain is most likely to add value via link building.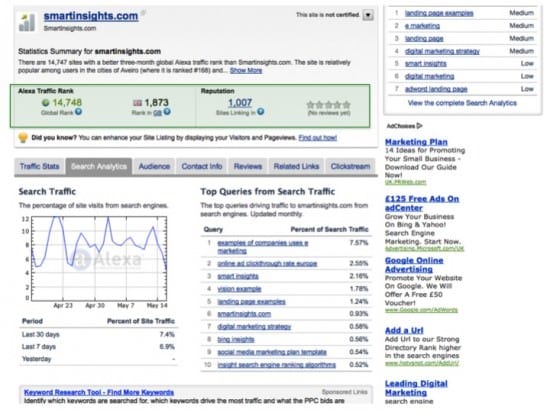 Google Ad Planner
A great tool that gives you basic demographics for domains, including: • Age • Gender • Education • Household income. It may not have data for smaller sites, such as SMEs and those working in B2B - you need several thousand visits a day minimum.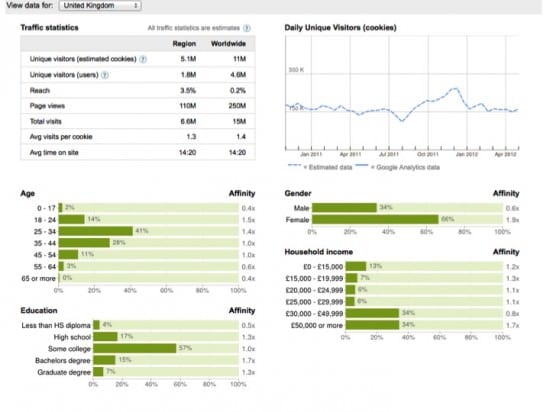 If you know that your primary audience (i.e. visitors who convert the best, spend the most etc) is female, ABC1 aged 25 – 45 with income of £30,000+, then targeting domains that have a close match is manna from heaven. I'd caveat these recommendations with the observation that this data is not 100% foolproof. However, it does give a good benchmark from which to evaluate domain relevance.
What are the paid solutions out there for SEO and link building analysis?
There are many paid for tools in the market. There are three that I have personally reviewed and would recommend for their functionality, reliability and ease of use:
SEOMoz Pro - Open Site Explorer
Majestic SEO
Advanced Web Ranking
SEOMoz Pro
This provides additional features to the limited (but still wonderful) free version. You can analyse domains and identify domain authority and the back link profile. You can deep dive into each back link to see the page and domain authority of the website it is linked from, as well as gathering additional information about social signals (Facebook Likes, Twitter shares, Google +1s). Please note that the screenshot below is from the free version of Open Site Explorer (I'm currently using AWR - see below - so don't have a PRO license anymore).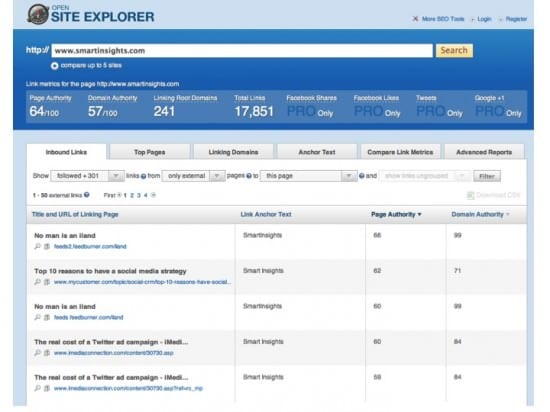 Majestic SEO
Majestic SEO has a neat back link discovery tool that charts back link growth for a domain over time. It's a useful way to check whether or not a domain is growing in popularity or declining.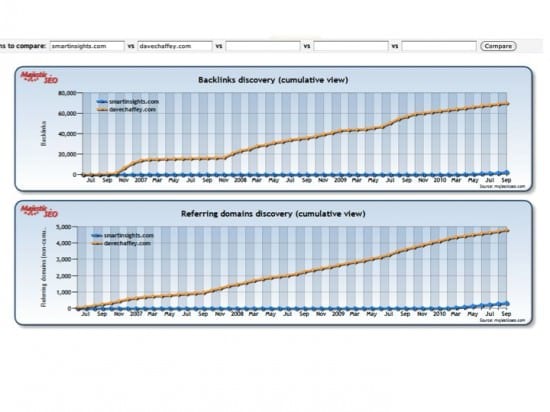 Majestic SEO recently announced the release of two new flow metrics - Trust Flow and Citation Flow. These flows visualise the link equity that is passing between URLs which will be useful for trend analysis over time. Further reading on the Majestic SEO flow metrics blog.
Advanced Web Ranking (AWR)
This has a nice visualisation tool for keyword ranking, charting these over time. You can select a group of keywords that are of most interest to your business. You can compare ranking for multiple domains to identify which external domains are getting the best visibility for the keywords you want to target, indicating a higher propensity to attract relevant visitors.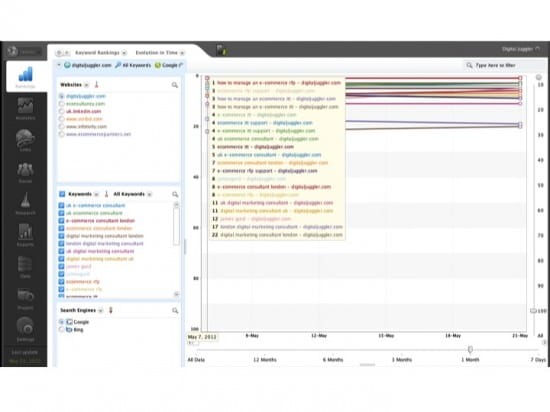 The best way to choose the right tool for you is to test drive all of them and discover which interface suits you best. Often it's the ease of use that swings the vote. I'm not saying there aren't other great solutions out there, these are just the ones I and my colleagues have used most often and which have widespread acceptance amongst SEOs. For further reading check out Chris Soames article The Best 5 Link Analysis Tools for competitor benchmarking for SEO and Online PR.
Please drop by and share your thoughts and if you feel the urge, share this with your friends/colleagues to encourage further debate.
Did you miss the other posts in this SEO series? You can catch up here:
If you have followed the first 7 steps in this SEO series, you have either cured your insomnia or found the path to enlightenment. Either way - I hope they've helped you review or improve your approach.
Thanks james