Today I'm speaking at the Fusion Marketing Experience in Belgium today and looking forward to talks by Bryan Eisenberg (@TheGrok), Joost de Valk (@yoast) and Jeff Molander (@JeffreyMolander). I'll be liveblogging, first up is @GerryMcGovern...
Gerry McGovern on Top Tasks and the Long Neck
I enjoyed talking with Gerry last night, listening to the methods he uses on studies for companies with huge sites like the BBC, Cisco, IBM, Microsoft.
He starts with a theme for today - don't trust the design of your sites, your customer experiences, to "gut instinct or suits around a table with lattes".
The essence of the method is to identify around 100 main tasks on a site from researching site visitor behaviour by analysing search, analytics and interviews. Usually there's around 100 and a single page survey is used to get a rating of these.
Amazingly, just 4-6 top tasks get 25% of the vote.
This is the way the analysis looks: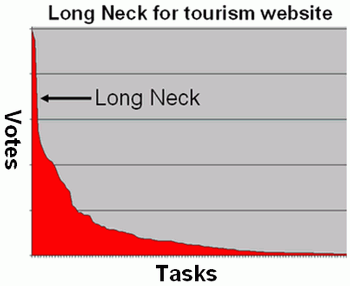 The three areas of the graph:
Long Neck: Roughly 5% of the content accounts for 25% of the demand;
Body: 35% or so of the content accounts for about 55% of the demand;
Long Tail and Dead Zone: 60% of the content accounts for about 20% of the demand.
But Gerry says, the resource often goes into the "tail of tasks" - he focuses on getting the top tasks right first - starting by identifying simply Success, Failure or Disaster! Aim to get 90% success on the key tasks and disaster below 5%. Then look at the task management.
A nice simple reminder to "not sweat the little stuff". That said, when we went onto the details of increasing task completion rate, you do need to "sweat the small stuff"; link are key to journeys and you to focus on optimising these:
A link is a promise and a destination.
Read more about customer carewords and the "long neck" in this summary.
Sharing new tools with Bryan Eisenberg
I'm also fortunate to have chatted with Bryan about some of his ventures. Although we talk, advise on strategy, we're both tools geeks. Tools give you a window into the way customers think and how your online experiences match their needs. It's also great to explore.
So for this summary, I'm not writing up the talk on customer touchpoints, instead taking the time to put down and share the tools we discussed. Hope you find some of these interesting+useful! What have you started using recently.