Keeping up-to-date with the latest Adwords innovation
Importance (to AdWords users):
Recommended link: AdWords announcement of Enhanced campaigns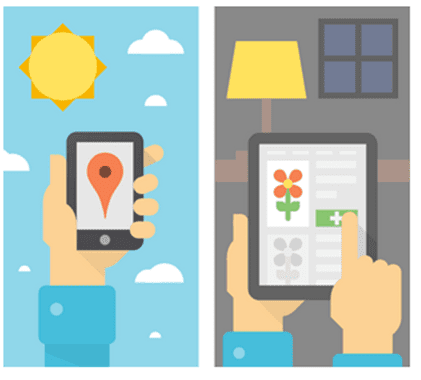 This year Google have been shipping enhancements to AdWords at a feisty pace. We thought that it would be helpful to take stock and review some of these key changes.
We notifying this update now since from July 22nd 2013 Google is automatically migrating all users to the new Enhanced campaigns feature. Google notes that a fair proportion of campaigns have still not been migrated since the announcement of the new feature in February...
"Advertisers have upgraded over 6 million legacy campaigns, representing almost 75% of active campaigns".
This blog post covers these 4 main additions for which I give more detailed advice in the newly updated Smart Insights Guide to Getting More ROI with AdWords.
1. Enhanced campaigns
2. Auction Insights tool
3. Automated rules
4. Dynamic Remarketing ads.
1. Enhanced Campaigns
Google noticed that AdWords was becoming very complicated for small business owners as in order to structure an account effectively it was necessary to separate out campaigns based on location and device and sometimes even by day/time of day and then all the potential combinations of each of these. For international companies it was getting messy.
The idea was that there is a context around how people search based on the device that they use, the location they are in and the time of day when they search.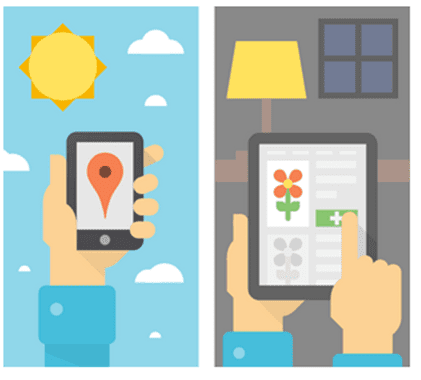 Take the example of someone searching the keyword 'flowers'.
If they are on a desktop or tablet, in the evening then it is likely they are at home. This may suggest that they are looking to arrange a delivery of flowers for an occasion at some point in the next few weeks.
On the other hand if the search takes place on a mobile device at lunch time then it is likely that the individual is out shopping on their lunch break. They probably want the address of the closest flower shop to buy immediately.
Although these 2 users are searching exactly the same keyword the context and intent behind their search is completely different.
How should enhanced campaigns be managed?
Under enhanced campaigns you can bid separately based on locations, ad schedule and device. In the screenshot below you can see the 3 tabs in the campaign settings for each of these preferences.

Bids can be both increased (by up to +300%) or decreased (by a maximum of -100%). We will take you through bidding by these 3 options.
Imagine that you have a campaign targeting both Australia and New Zealand. For whatever reason you notice that the New Zealand based performance is much better than the Australian performance.
In the screenshot below you can see that the cost per conversion is around 10% better in New Zealand than in Australia.
If your maximum target cost per conversion was £90 then you would want to increase the New Zealand bid by around 10% as shown below. However; if your target CPA were £80 then you may want to decrease the Australia bid by 10%. You simply click in the bid adj. box and switch to a variance of your choice.
These adjustments are not just at a country level they can be based on towns/cities or even a certain radius around your business location. This is perfect in the case of the flower shop In our example above as they may want to bid higher for those within a mile of the shop.

By observing your performance over a long enough date range you can see variances by day of week and also you can set this up to be viewed by time of the day.
Bid adjustments can go both ways, so in this example Monday has the best cost per conversion so we have increased our bids by 20%. On Wednesday and Thursday performance tends to be worse so we have reduced bids by 20%.

If your business takes orders or enquiries over the phone then you should be advertising to people on mobile devices.
Depending on the performance you get from mobile devices these bid adjustments can be increases or decreases.
You will notice that tablet performance is visible but currently it is not possible to adjust bids for these devices. We can speculate that Google may introduce this functionality in the future.

Creating separate ads for mobile devices
On the ads tab in the Adwords interface if you click on '+ New ad' then select 'text ad' you will see that there is a small tick box for the device preference. This allows you to write ads focused for the user based on their context being on a mobile device.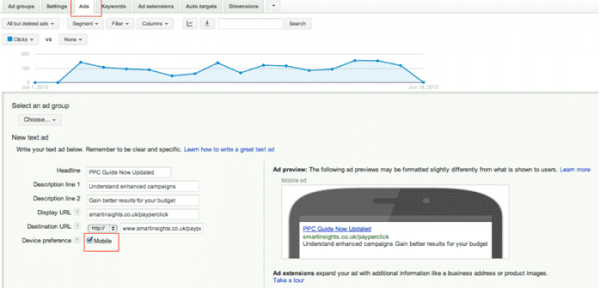 2. Auction Insights Tool
You may want to look at the competitive landscape for a keyword using the Auction Insights report.
This report shows you which competitors are bidding on the same keywords as you and how your impression share compares to theirs.
It is not a tool to make bidding decisions on as it has no relation to ROI but it is interesting to see who you are competing against and how aggressive they are on various keywords.

In order to see this data checkout the keywords tab in your campaign.
3. Adwords Automated Rules
Using Adwords automated rules it is possible to automatically adjust your keyword bids based on certain performance factors. This can be done based on a CPA, by ad positions, average CPC's, or many other individual factors or combinations of factors.
There are many uses for automated rules in Adwords but we will only be focusing on using automated rules to manage keyword level bidding.
If you have a clear target CPA set at either an account or a campaign level then you can set up rules based on this through combining with other factors. These are your options.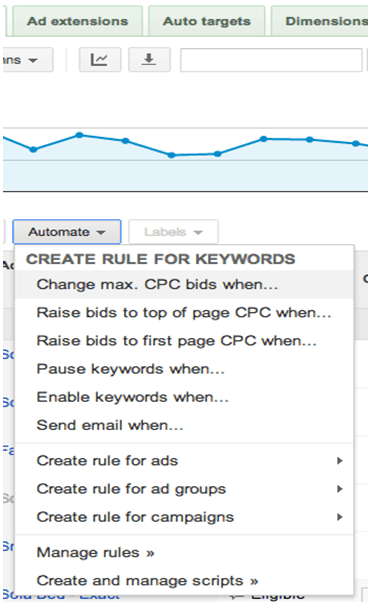 4. Dynamic Remarketing Ads
A very recent development of the Adwords re-marketing technology, Dynamic ads allow advertisers with a product feed in Google Merchant Centre to create ads that dynamically insert the image, name, price and description of a product once a user visits that product page on your website. This will be most relevant if you are a retailer selling multiple products.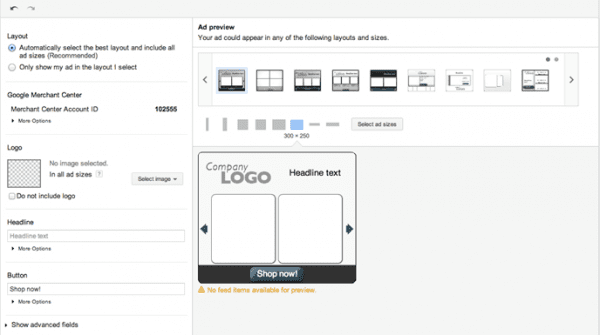 There will surely be more from Google this year but hopefully this little re-cap will have highlighted anything that you may have missed.
Make sure that you check your Enhanced campaigns to make sure you maximise your ROI - I hope these tips help.