New report compares desktop to mobile advertising showing rapid growth, CTR X 2.7, 60% of CPC costs, but lower conversion
Over the last few years (largely thanks to the rise of the Smartphone and texting) mobiles have become a much larger part of everyday living. Their success is in making a lot of tasks easier & providing entertainment / connectivity while on the go.
Predictions of global use of the Mobile Internet such as the one on right all point it to exceeding desktop use by 2015.
But it seems that while businesses have started to "experiment" with mobile marketing there are few who have a clear strategy. Instead, mobile-based marketing  tends to be through applications, some recent examples that caught my eye are:
New data on mobile search usage in the UK:
The reason behind my post is to alert you to this recent download from EfficientFrontier which shows the steady growth of mobile advertising spend and some surprising differences to desktop search. Although it's still a low % of marketing spend there clear upward trend with rapid growth in a year: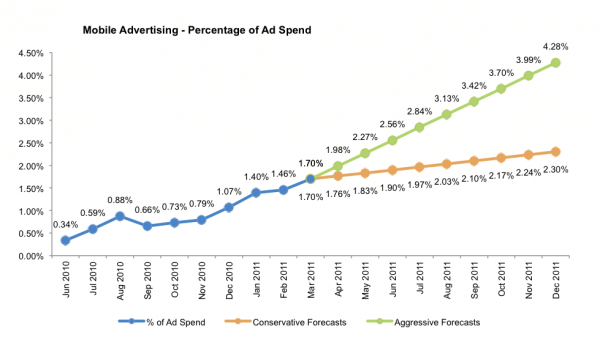 Efficient Frontier provide a paid search/bid management system used by many large advertisers in different marketers. Their data provides the first study I've seen comparing the scale and effectiveness of paid and natural search.
Search rapid rate from 0.34% one year ago to 1.70% today
Mobile advertising is 60% of the cost of desktop ppc
Click-through rate can be up-to 3 times higher from mobile result pages
No significant changes in keyword behavior
Conversion rate to sale significantly lower on mobiles vs desktops - averaging just 14% of desktop search, but with a large variation across sectors
Mobile marketing extends beyond just paid media and so considering your natural search & local search strategy is also key to leveraging such a channel. The optimisation techniques remain the same but consider a more focussed mobile only website & ensure the website is readable across all handsets (remember things like Apple iPhone & flash do not work together).
What does the data mean for marketers?
What does this mean for business online? As with all emerging trends it's important to monitor, get involved with discussions, watch other business, be proactive (use the tools as a consumer).
But there's a HUGE gap between the predictions of mobile search overtaking desktop search and the reality of the amount of advertisers. I think it's another case of "don't believe the hype".
From the data so far it would appear there is a massive amount of potential and with relatively cheap spend required to gain good reach. There are however key considerations before jumping into mobile marketing:
Does your website perform well on all mobile devices? If you are going to spend money on advertising it needs to land on a respectably looking fully functioning website
How will you monitor success? Is your analytics configured to track mobile activity?
How will you deal with incredibly low conversion rates to sale? Lead tools / sign ups maybe key?
* Images thanks to techprone & eFrontier