Omni-channel marketing will play a key role according to the latest research on business growth drivers from KPMG
In today's fast-paced business world, standing still is not an option. To stand still is to fall behind. The CEO of Salesforce summed up it at Davos when he said 'speed is the new currency of business'.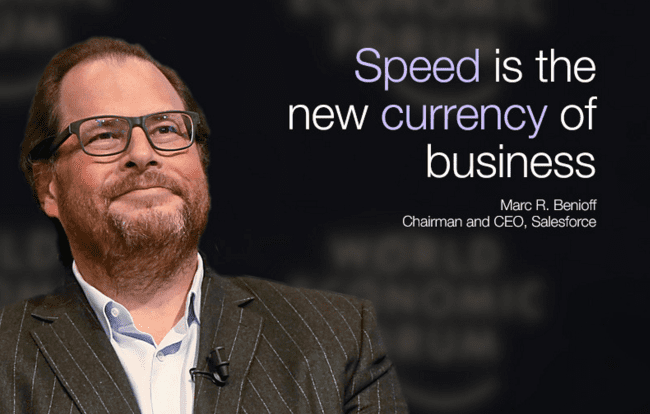 Although, if I was being facetious I'd say I'm pretty sure money will remain the currency of business for a long while yet.
In this dynamic and constantly changing environment, it can be difficult to know what will drive business growth in the next quarter, year and longer term. To get an understanding of where business leaders saw growth coming from in future, KPMG asked 539 senior executives across manufacturing, retail and distribution businesses about their opinions on what would be the key growth drivers over the next few years. The results make for some interesting reading.
What will drive growth?
Business leaders were asked to rate the importance of a number of key areas, in order of how important they would be to their companies success over the next one or two years.
Talent management came top, with 76% rating it as very or critically important, followed by top line growth. Of greatest interest to marketers is probably how business leaders see data analytics as being crucial. Almost three-quarters rated it as very or critically important. Data will only grow in importance for marketers, who will increasingly be expected to leverage big data to profile their potential customers and deliver well-targeted ad messages at the right times.
The importance of Omni-channel strategy is also interesting here. It is good to see top business executives coming round to the importance of this relatively new development. Customers now expected seamless experiences across devices, so different channels need to work together and present a clean and unified message to customers.
Regulatory compliance is another key area identified here which marketers would do well to bare in mind given the impending implementation of the GDPR, currently being debated by the EU. Failing to comply with its edicts related to data privacy could result in hefty fines which could seriously damage your company.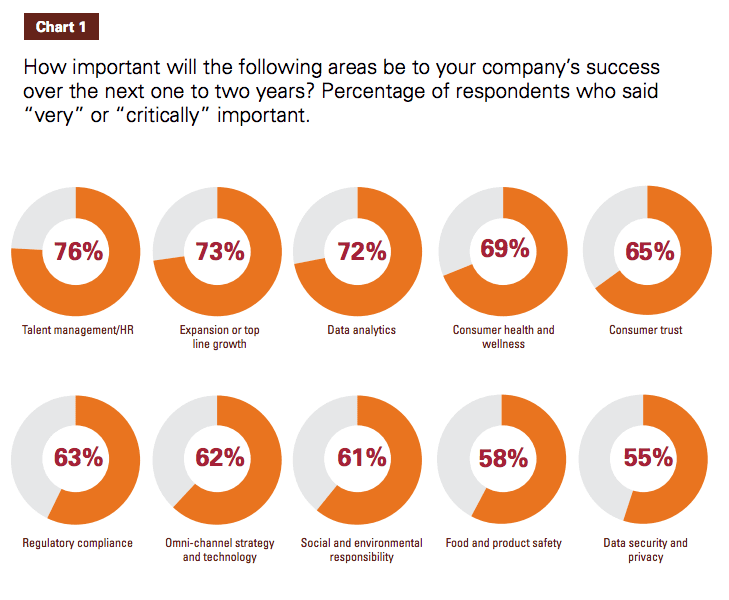 Prioritising the issues
It's easy to say any element of a business is important, but its key to prioritise the most critical so they can receive the appreciate investment of time and money. It is very interesting that talent management came top of the survey in terms of those ranking it as important, yet it is towards the bottom of the pack when it comes to those who said it was their number one focus. Omni-channel did well it came to those saying it was their number one focus, whilst consumer trust was strong on both metrics. Expansion clearly came at the top of the pack here, however that isn't necessarily that illuminating.... Of course all companies want to expand, but what is important is how they do so. Will they expand via ad campaigns designed to generate more leads? Or by hiring lots of sales staff in the hope that cold calling can generate the necessary revenue boost? Or will they attempt to improve their product or service in the hope that word spreads organically and thus more customers are gained? The answers to these questions provide much-needed insights.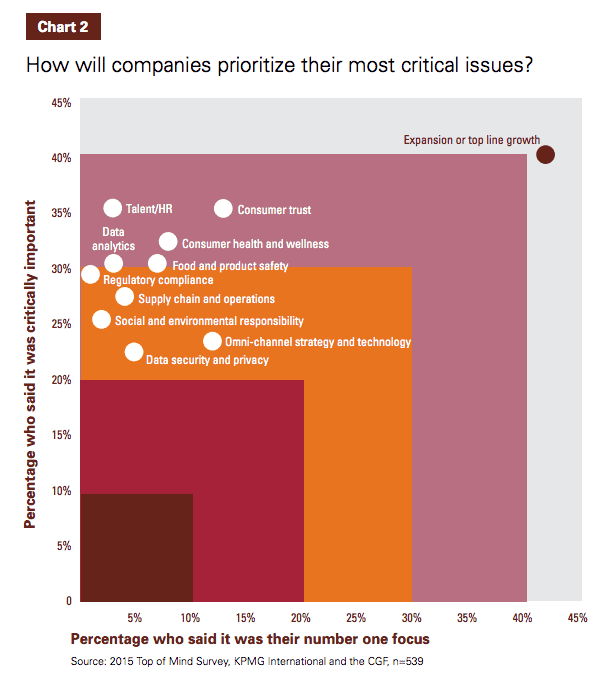 Growth is key, but what will drive the growth?
So it is clear that businesses are targeting growth in 2016, but the exactly how they are looking at achieving that growth is what is important to examine.
The survey revealed what business execs believed would be the top six drivers of growth for their companies in 2016.
They were as follows:
Consumer trust
Omni-channel
Data security
Sustainability and corporate social responsibility
Consumer knowledge
Supply chain
The top two places here should be high priorities for marketers in 2016. Building consumer trust is not easy, but it is easily lost. It is critical for generating strong sales, but boosting it requires extremely good cooperation and coordination between departments. Marketing, sales and PR all have a hand in it, as does quality control if your product is physical rather than a service. Removing barriers between departments and encouraging collaboration is important for success in this year.
Omni-channel again rates highly important here. Omni-channel marketing again requires a breaking down of silos and excellent collaboration across the department. Looking at your users experience as well as more traditional marketing channels is key to getting it right.
Driving top line growth
Business execs were also asked what strategies they saw driving top line growth over the next two years. The data here is divided by retailers and manufacturers. For most marketers the retail data will be more useful, but the manufacturing data will also be handy for those working in that sector.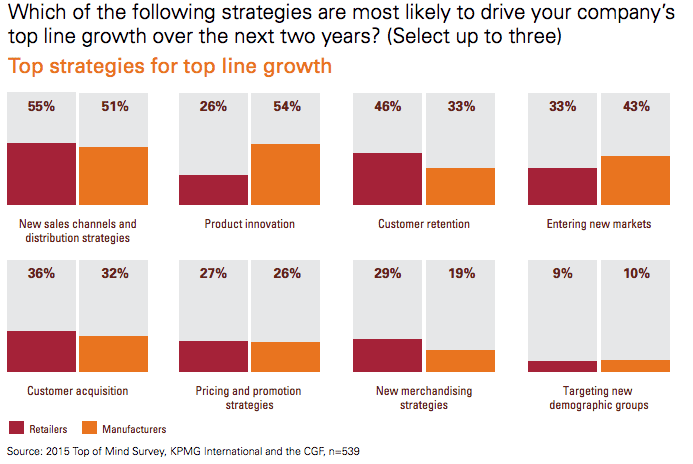 New sales channels leads the pack for retailers, which is interesting as it shows a move towards increasing use of ecommerce and perhaps social commerce or m-commerce (mobile). These classifications are fairly arbitrary and generally it is best to look at improving your overall omni-channel strategy as all the channels are mutually reinforcing. Customer retention and acquisition was also highly important for retailers. Customer loyalty is key to customer retention, and may businesses saw themselves developing this via social media conversations or involvement in relevant communities. Social clearly has a big role to play in developing customer loyalty, and it holds a lot of potential for promoting business growth in 2016.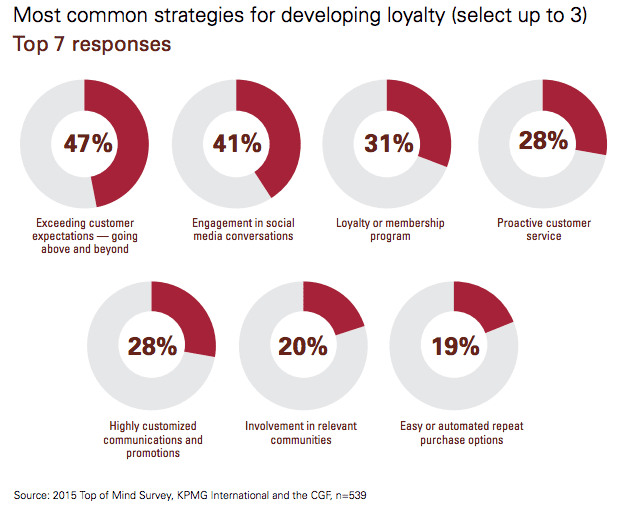 If you are interested in the insights provided by this report, you can access the full version from KPMG.