Tips and examples to help plan and run global-local social media campaigns
Whilst the emergence of social media makes it increasingly difficult to contain campaigns within a given market, it offers brands greater opportunities than ever to connect with large, global audiences in a way that feels far more personal than most mediums previously available.
This blog provides successful examples of how companies are enhancing their global brand, the campaign development process and how to embrace the evolution.
Examples of companies successfully using social media to enhance their brand and increase sales.
A few months ago, Coca-Cola launched what they refer to as the 'Cocal-Cola TV project' campaign, essentially bringing live entertainment to its target audience via multiple social media channels and devices in a year-long project primarily aimed at audiences in Latin America.  Paul McCartney's free concert in Mexico was streamed live on Coca-Cola TV, with viewers encouraged to drive conversations on social media channels.
More recently, Topshop partnered with Facebook to allow viewers of its live-streamed fashion show to share pictures of their favourite outfits with their friends as the show unfolded.   The show was also the first ever fashion show to be streamed live on Twitter, with viewers encouraged to summarise the show in the traditional 140 characters. According to the brand, it was watched by over 2 million viewers from over 100 countries. The campaign resulted in an extraordinary level of traffic to Topshop.com, and in several of the collection's items being sold out within an hour.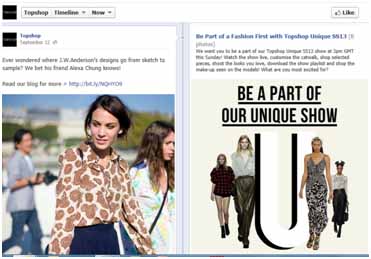 So how is global marketing evolving and how to make the most of this opportunity?... 3 stages to a campaign development process
Stage 1: domestic market or HQ focus
Traditionally, global marketing campaigns were developed in a brand's headquarters, and tailored to cater for the needs of the largest market.
They were then tweaked to smooth out prominent local flavours, and to create a more 'global friendly' tone of voice.  However, the content and concept remained predominantly relevant for the primary market they were intended for.
Benefits and Risks:
The benefit?A cost effective way of 'globalising' a market-specific campaign. The risk?A potentially bland and soulless campaign, or worse still one that crosses the line of accepted cultural norms and might even be perceived as offensive in certain markets.Diesel's 'be stupid' ad campaign for example had to be pulled out of the UK after being deemed inappropriate.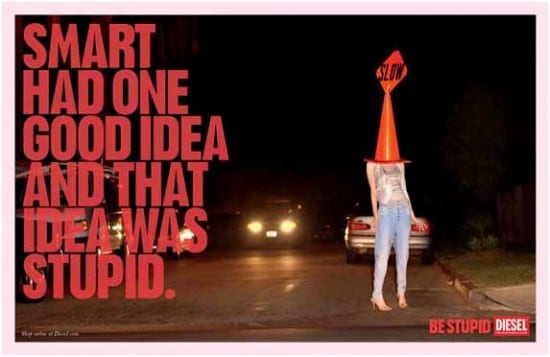 Stage 2: domestic and international focus
Over time, the process evolved and became more fluid.  Brands learned to operate with a more international mindset and produce campaigns relevant across a range of markets.  They managed to reach the fine balance between keeping global cohesion and branding, and integrating cultural flavours.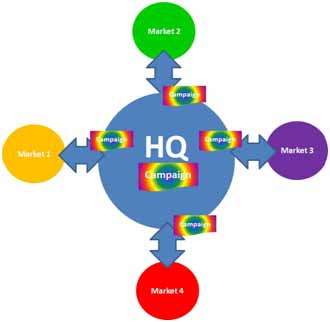 In-market marketers actively participated in the ideation and development of the campaign to make sure that it hit the spot in their market.Equally, global marketers became savvier in their knowledge of the various cultures (and underlying languages, regulations, accepted behaviours, etc.) their brands operated in.
More recently, the emergence of digital and social media marketing has led brands to embrace global marketing at a much deeper level.  The lines between separate markets have become blurred. Digital campaigns ran in one region inevitably 'leak' to others via social media channels, as are the public's comments, reactions and opinions, whether positive or negative.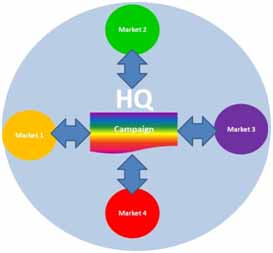 This approach has worked particularly well for certain brands. Coca-Cola for example arguably established the early concept of global marketing and has managed to keep its slogans universal through the years. From 'Have a Coke and smile' in 1979 to 'Can't Beat The Feeling' in 1989 and 'Always Coca-Cola' in 1993, its taglines appealed to its audience's feelings – universally so.
How Nike succeeded?
Nike has also placed the bar pretty high when it comes to embracing digital as a platform to drive global campaigns.  The days of promoting the start of NCAA March Madness (a US-based basketball tournament) on its homepage in every country are thankfully long gone.A shift certainly happened when Nike launched the Nike iD online store, allowing customers to customise their own shoes.It was a hit, with sales reaching over $100 million in a few years. Nike has not looked back since.
They identified that developing products that allow them connect with their target customers on a personal level across a multitude of cultures and markets was a key success driver. They also smartly combined this with an increased emphasis on social media as an advertising medium.  In fact, Nike's World Cup Campaign in 2010 was launched via its Football's Facebook page.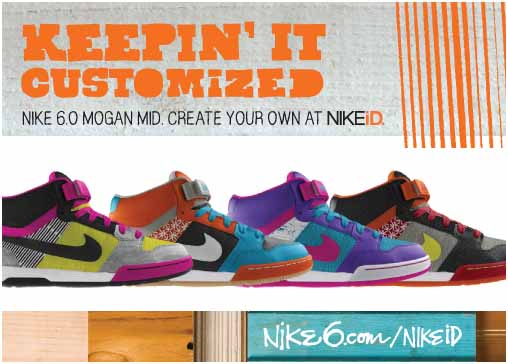 5 tips for brands to embrace this evolution
The emergence of digital and social media channels has inevitably led to an evolution in the way brands embrace global marketing.  It will become increasingly hard for international brands to contain campaigns within single markets, and in many ways, why would they want to miss out on the unique opportunity they have to talk to their audiences worldwide?
If your brand is ready to adopt a more global focus, here are some tips to make the most of this global digital opportunity:
TIP 1. A coherent global brand identity has become indispensable if your brand has a presence in multiple markets.  A flaky brand identity will cause confusion and dilute brand equity. Success on the other hand will strengthen the brand image and lead to exponential rewards through the power of social media.
TIP 2. Managing communication channels across territories, particularly social networks, requires a clear and cohesive global strategy. \
You may choose for each market (or same-language markets) to 'own' a local social media profile, or on the contrary, you may decide to have one global profile catering for all territories.Whatever your social media set up, ensure that the tone of voice, type of updates, content shared, approach to customers' feedback or complaints is consistent across all markets. If the ownership is shared, make sure you define the areas of ownership clearly (who owns which types of updates or time slot, etc.).
Risk management on social media channel has become trickier.  Negative public reactions or comments can no longer be confined to the market in which they were initiated.  Language is the only slim remaining barrier … and is rapidly fading.  How to handle these reactions should be part of your strategy too, and it is vital that it is identical in every market.
TIP 3. Develop culture-agnostic campaigns and taglines by focusing on the emotional benefits. Brands today have the opportunity to ride the wave of the social and digital era and connect with their customers worldwide in ways that would have been unthinkable 10 years ago.
The combination of scale and intimacy is not always easy to achieve, but brands such as Nike and Coca-Cola have leveraged this opportunity very successfully.   How? By focusing on universal emotional benefits their products offer.  Whether your product is customisable or not, some of its attribute are bound to be culture-agnostic.
TIP 4. Do your homework to identify the most relevant local channels in which to apply your global strategy.  Google's Orkut for example remains a popular social media channel in Brazil and India.  If those are important markets for your brand, consider how Orkut should fit in your campaign strategy.
TIP 5: If you can't quite go global, start by clustering markets around similarities. As a first step, if your brand isn't ready to go global yet, it may be an idea to cluster markets around similarities and start by developing cluster-based campaigns.  However, be mindful of languages and communication channels in doing so.
A US campaign is likely to be seen, read, and experienced by customers in other English speaking countries.  Similarly, leveraging social media channels to support your campaign will make it visible to your fans across countries, languages or cultures.