Introducing the 10 C's of Marketing for the modern economy
Marketing models, whether traditional or digital, are useful frameworks to focus planning and strong mechanisms to enable organisations to develop robust marketing plans that stand the test of time. Some are particularly relevant for the new age of Digital Marketing, and few more so than the 10 C's of modern marketing. Designed specifically for digital marketing by Chartered Institute of Marketing examiner Richard Gay and featured in Online marketing: a customer-led approach, it was originally published in 2007.
What is the 10 C's model?
The 10Cs considers each element of an online marketing framework. This could be internal and used to review an organisation's website and related marketing communications and how they are managed, or it could be used as an external tool to audit competitors activities. The customer is placed in the centre and each element is reviewed to see how well this meets customers' needs.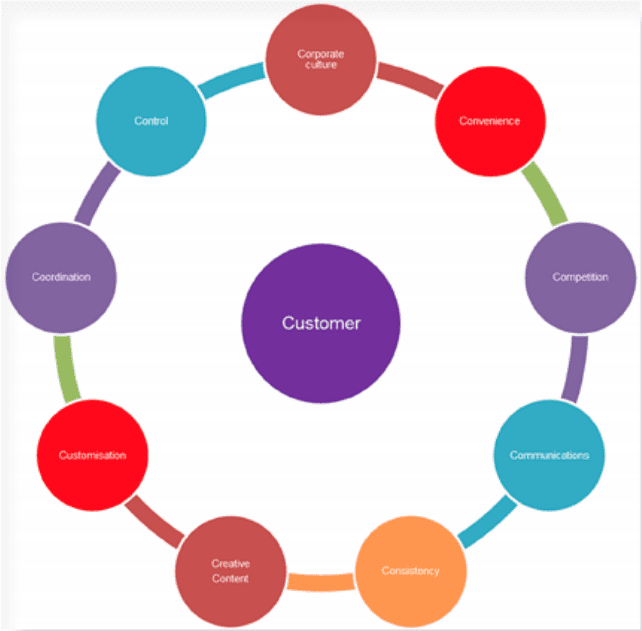 The 10 C's of Online Marketing
1. Customer
As would be expected in any marketing context, the customer should be located at the centre of the model. The web provides opportunities for more targeted marketing and this element should consider how well the organisation knows the customers, for example:
Has your organisation developed personas?
When did you organisation last gather insights from your customers?
If your clients cannot find you online, your position may be strong today but with the pace of change it is not ensure to ensure future survival, Customer behaviour is changing dramatically and customers expect speedy and transparent communication at all stages of the sales process. New behaviours are emerging such as webrooming and
New behaviours are emerging such as webrooming and showrooming2 ; the issue is recognising these behaviours and adapting the organisation and its technology to support them. It can be difficult to 'sell everything to everyone' hence the need for greater targeting in an online environment. It means that you need to understand the customer, their needs, their shopping behaviour, their delivery requirements and the communities to which they belong.
2. Corporate culture
Corporate culture or brand perception has become more important to savvy online buyers. Think about the leading clothing brands including Gap, Marks & Spencer and H&M, selling coats embellished with Angora rabbit fur, extracted by less than ethical means. This was discovered, shared across television and online video networks, soon resulting in a change of policy. Corporate culture today means greater transparency and authenticity. Customers have expectations of brands they follow. The revelations about Volkswagen (VW) astonished consumers and the shockwaves went much deeper as it had a direct impact on the value of the Euro currency. The shock was that a company as loved and trusted could lack transparency and take actions seen as counter to their values.
 How does your corporate culture align with your customers?
How authentic is the organisation?
How is transparency understood and monitored?
How could you ensure a situation like that at VW, could not occur in your organisation?
3. Convenience
The ability to shop at any time and from anywhere, has shifted the power from retailers to consumers. Technology has created convenience for consumers via mobile and tablet and I can shop on my mobile on the train, on the way to and from work, whilst waiting for a meeting to start. Convenience involves many factors which are part of the overall Online Value Proposition of a website:
Easy access to shop on different devices, for example through responsive or adaptive websites
Easy recall of previous orders; storing my previous data so if I'm in a hurry with a grocery shop or a B2B purchase, I can simply repeat an earlier order.
Easy acknowledgement of my order with details of when it will arrive; in some cases this is becoming a shorter time slot or I can arrange to have my goods delivered to a safe locker or other convenient location. For Business to Business (B2B) convenience about
Easy access to information related to my profession or sector
Easy access to my account and stored content if relevant
4. Competition
Technology has given competitors and new entrants to be disruptive in an environment where it is not always possible to predict the next step and the changes take place overnight. For example:
 5 of the biggest companies worldwide did not exist 20 years ago: Apple, Amazon, Facebook, Alibaba, Google
 New investors are using new investment platforms: Kickstarter & Crowdcube.com
Big businesses are harnessing the crowd for ideas: Walkers Crisps (Facebook) & Online tools (Brightidea.com, ideascale.com)
At the same time, price comparison sites give consumers more knowledge. This is often shared with competitors. Gay suggested that competition is on 6 levels:
1. Traditional competitors moving online.
2. New online-only entrants in domestic markets.
3. New online entrants from overseas.
4. Competitors from newly formed online alliances and partnerships.
5. Competitors introducing or eliminating channels of distribution.
6. Revitalised traditional businesses.
5. Communications
Probably the greatest single change from digital media and technology is the advent of new forms of inbound marketing such as organic SEO and social media. Here communication has evolved into new forms of 'inbound 'Pull' marketing and, in the case of social media, a two-way and multi-party dialogue, instead of the traditional one-way corporate communication.
For organisations this new dawn heralds a lack of control where others control the message which may be inaccurate at best and libellous at worst. Plus, the need for elegant prose covering pages of brochures has been replaced with the need for sharp pithy posts, changing the nature of copywriting and the skills required. One of the ways to assess your online communications is via a content audit. This should highlight:
The types and formats of communication delivered
Tone of voice
Key messages
Potential gaps and pitfalls
This can equally be applied to competitors to assess their communications.
6. Consistency
Consistency involves delivering same service regardless of channel. So whether you buy in-store, online or over the telephone, the same standards and levels of service should be applied. The challenge is often that poor service, when mentioned in store, may not be fully addressed and as a result, customers go online to seek redress
7. Creative content
When Richard Gay created this model it was at a time where companies updated the content on their websites infrequently. The evolution of Google algorithms, understanding of the value of Content Marketing combined with newer technology has ensured many organisations update their content on a regular basis and it's easy to do this.
Gay also suggested that the main source of company information was via their website, whereas many customers now seek additional sources, such as social media platforms, to read comments from others. The corporate website is just that; corporate. With that comes less trust and potentially less authenticity. 'They would say that wouldn't they!' Looking at an organisation via Glassdoor, the US staff review site, provides a level of insights that would be unlikely to be approved on the corporate site. Equally review plugins, such as TrustPilot or Reevo which only capture feedback from customers who have made a purchase, can convert hesitant customers. This user-generated content is creative, insightful and adds authenticity to a site in the way a standard product description never could. Other creative content includes different formats such as video, infographics and downloadable guides – such as this one. If you want to explore more creative content, check out our Content Matrix for the full list of content options
8. Customisation
Many websites customise the web experience. Take Amazon as the best-known example, it welcomes me back to the site, makes recommendations of what's new and suggests other items to buy which it calls 'Inspired by your Shopping Trends'. Easier to use technology has facilitated greater personalisation or as it was previously called 'mass customisation'. Amazon carefully words this recommendation list and acknowledges that it's based on some evidence, without sounding scary.
9. Coordination
Coordination or, as it more recently termed, 'integration', is ensuring that from click to delivery, the multichannel service customer experience is coordinated. Imagine where a company sends a request for a product review, but the product hasn't yet been delivered! Sounds crazy? It happens and too frequently. The review request is triggered 48 hours after purchase and assumes delivery has been fulfilled, but this doesn't always happen. Lack of coordination occurs when different teams aren't integrated and this is often when senior management teams have a lack of understanding of the end-to-end fulfilment process.
10. Control
This final element of the 10Cs brings together the way online buying and browsing can deliver greater insight and measurability. You can see:
What's working
What's not working
What works well
Through web analytics' tools like Google Analytics, marketers can now better measure their marketing, as well as testing new ideas to see which generates greater interaction and / or conversion. Utilising customer feedback tools4 can also encourage more customer-centric facilities/
How to put it into practice
Now you know the 10 C's of marketing the next step is to put them into practice. Our Digital Marketing Models guide has information on how to implement the 10 C's and the 9 other digital marketing models it outlines. It is free to all members, so sign up to basic membership at no cost to get it today.