Suggestions needed for good interview style questions for a Digital Marketing Assistant position?
This was the question recently asked by David Pool in our Smartinsights Answers forum.
We had some great responses from members, both on the forum and in our LinkedIn group too. Since so many valuable tips were shared, we thought it would be useful to summarise the tips from the contributors on recruiting the right candidates with the right skills, and ensuring they can ' talk and deliver'.
If recruiting for digital marketing, or landing a role is relevant for you, you may also find our Guide on Recruitment for Digital Marketing useful. This highlights the team structures, roles, responsibilities along with additional interview techniques from recruiters.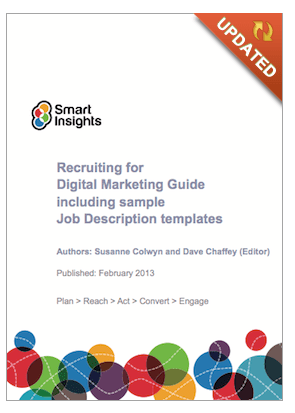 Our summary of the interview questions
I have grouped the ideas for questions to make them quicker to scan. I hope you find these useful - do add more ideas in the comments!
1. Find out if the candidate has their own personal site 
Adrian B points out that this shows initiative and their skills around domain registration, hosting, etc. If the answer is 'No' then probe with questions such as 'Why Digital' and 'What is your interest in this area'? Adrian commented:
"it always intrigues me that someone could be interested in digital, particularly SEO, but not so interested that they had a go at creating their own site'.
Tolani M agrees with this and would ask additional questions around whether they run their own blog or social media channel. This shows experience of managing content, social media channels, understanding of changing digital and social media marketing. So consider asking a question like: With consumers now becoming creators in their own right, how do you feel digital marketing is set to change within the next few years?
You should also check their personal social update and how it relates to their company. Sometimes their CV also highlights this as evidence.
2. Ask for feedback on how they would improve the company site?
Justin T would ask the candidate during the interview about how they would improve the potential employer's company  site.
This would demonstrate practical application and knowledge of SEO, customer journeys, CTA, look and feel as well as their preparation in advance of the interview.
It also puts the candidate on the spot and forces them to "think on their feet", a common situation in the workplace!
3.  Credentials and Professional bodies.
Nadeem, A likes to find out if the candidate is a member of a professional body.
This shows understanding, application and interest in digital and their skills are up-to-date, particularly if they are on CPD. Subscriptions to member bodies provide up to date journals and case studies to keep up to date with the latest information. It also shows commitment.
4. Probe Digital knowledge
Sagren P suggested asking the questions:
'What is the value of each channel owned, earned or bought? Where in the lifecycle of a campaign you would use each, and what are your variables for success?
The answers will illustrate if the candidate understands social updates, blogs, campaign performance tracking, the conversion funnel and so much more..
Other suggestions for questions from Marco C  include asking very practical questions around how they would obtain results from digital campaigns to show increase in visitors, subscriptions, leads for new markets.  Another key question is to find out about their team building skills given teams are becoming more integrated and working across areas now.
You can also ask questions for the different channels they will be involved with which prove detailed knowledge and experience of managing hands-on.
Q. SEO – if you had to pick 3 factors influencing the ranking of a page what would they be?
Q AdWords – how do you improve quality score/what are components of quality score?
Q Social media – what's most important in encouraging sharing of a blog post/status update?
Q Analytics – how do you assess engagement/the value of a visitor to the business?
Q Campaign - ask for a campaign you've been involved with and what affected its success?
Finally, there were some great suggestions from Ryan U who suggested that in order to find initiative skills you need to ask "technical" questions about digital tactics to see if they even have the knowledge to operate with less supervision.
Q: I'm putting a new image on my website home-page. What should I name it and why?
A: The image should be named according to SEO and should include keywords that properly describe the image. Not "1234.jpg" 

Give them a pad of paper and ask them to compose a tweet about a specific item or product. Look at their use of #hashtags and character count (140). If they make corrections that probably means they are actually thinking about maximizing the space and using the right words. Unless they nail it on the first draft.

Tell them what industry the biz is in and ask them to give you 3 social media platforms that will be beneficial to the company. Then, give them a completely different industry and ask for 3 platforms and why those work better for that industry. This shows their knowledge of platform limitations and benefits.
Thanks for sharing guys!