Using lifetime value models to set campaign investment levels
We think Lifetime value (LTV) models are a powerful tool to help businesses demonstrate the future value they can generate from marketing activities. It's a much better approach to evaluate investment based on long-term returns from marketing activities rather than the short-term success of a single sale. As the inimitable Avinash Kaushik has said, setting marketing budgets without using LTV is like saying a relationship will be successful based on a one night stand.
Although the benefits of using lifetime value models are strong, in our experience, lifetime value is a technique that's not used as much as you might expect or it should be. It seems it's mainly a "big company thing", more often used in sectors like financial services, retail or where direct marketing marketing has been practiced.
We think LTV models can and should be used in businesses of different sizes  for many applications like retail, utilities, travel or web services like software services or publishing where there will be recurring revenue. They are also important to creating business plans and forecasts for startup businesses to help estimate future revenue.
Perhaps they're not used unless you are "shown the ropes" by colleagues who know about them or you cover them on a course. We built them in as activities on the IDM Digital Marketing Diploma for many years for that reason. To help businesses model LTV from marketing investments we've just published this LTV model spreadsheet. This post explains the background of using them.
What is lifetime value (LTV)?
A classic textbook definition is:
"Lifetime value is the total net benefit that a customer or group of customers provide a company over their total relationship with a company".
Lifetime value can be calculated historically where it has value in understanding the value generated by specific customer groups or where customers are acquired from different sources. We'll cover these in a future post. However, we feel the main application of Lifetime value modelling is in campaign planning and budgeting and that is where we will concentrate there.
Using lifetime value models to set the allowable cost of acquisition
A key feature of using LTV is that the value contributed by customers over time is calculated in terms of its present day value. This is THE key benefit of lifetime value model calculations since it enables you to work out how much you can afford to invest to acquire customers or develop services that will increase LTV.
Lifetime value analysis enables companies to set realistic investment levels in marketing budgets for customer acquisition programmes. As you'll know, every new campaign should have a clear target cost for allowable customer acquisition (CPA). But how do you know how to set it? You can set it at the average order value for the first sale, but this doesn't take future orders or revenue into account and will limit your budget.
LTV models help set allowable CPA at a level which takes the future value of a customer into account based on the percentage of new customers who make repeat sales and optionally recommend your service to others.
The way this is estimated is through creating a spreadsheet model based on these inputs:
The percentage of customers who order again or renew in each each year
The amount spent per year by each customer
Direct and indirect costs per year (but excluding marketing costs)
A discount factor which takes into account future revenues in present day terms given inflation
As with any model, these are estimates, so the technique works best in markets where these values are stable.
Lifetime value model calculations
Although the name alone looks scary and some of the formulas like those in the infographic at the end of this post don't help, LTV calculations are relatively straightforward if you're comfortable with a spreadsheet or a template is available.
To help here, we've created a simple Lifetime value calculation spreadsheet for Expert members: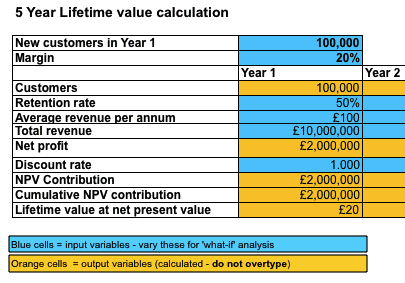 Further reading
To learn more see this example of a lifetime calculation for Starbucks from Kissmetrics. It gives another way of considering LTV, but it is more complex than that in the spreadsheet above.