#DigitalImpact2014 transforming your digital world
Our showreel gives the vibe of our first conference held in London on 17th September 2014 based on Smart Insights members who attended, speakers and partners.
In a previous post, we gave a visual, Twitter picture summary of the recent Smart Insights  Digital Marketing conference. In this post, I've summarised what I thought were the most useful insights from listening to the speakers, linked to more detailed posts from some of the speakers.  I listened to speakers from start-ups to large corporations sharing best practice, their mistakes and insight into how we can manage digital transformation; from planning, to managing and optimization.
My colleague Dave introduced the conference, by sharing key models (PR Smith's SOSTAC® and Smart Insights RACE) on how to plan for digital transformation through structured models. He showed how John Lewis ranks as the No 1 Leader for customer experience through their Digital Transformation programme.
Here are some takeaways from some of conference speakers and slides shared during the conference.
Case study 1. Growing International markets through Ecommerce
Tesco's strategy on planning to enter new markets to become a multi-channel global retailer
Niall Walsh, Head of Group Digital and E-Commerce at Tescos, shared the successes and learnings on how they planned for Digital Transformation to enter new overseas markets. Adopting the UK model, Tescos decided to build a new in-house platform and prioritise speed over customer experience to penetrate the market. Why? Roll out in the UK was primarily successful due to the speed to get to market and with 'social change to shopping online for food then you can't mess up', according to Niail.
Tescos know that customers are 2x as more valuable by the more channels they connect with and become more loyal, and the home shopping experience so the focus was towards a functional website
Key Takeways: 
1. 'Loyalty = Trust in a volatile market'.
2. 'Research and know your audience'.
3. 'Social Media is key to engaging and getting the messages out there though it's changing overseas perceptions to move away from Price and Promotion to entertaining and engaging' their audience'.
How did Tescos achieve Digital Transformation?
Data mining Tesco clubcard data.
Direct mail campaigns.
In-store demos and promotions.
Low budget Youtube video – which really exceeded their expectations in Poland with over 1 ½ m views.
What's next for Tescos?
Multichannel CRM programme to personalise key segments around lapsed shoppers.
Loyalty ladder with short term incentives and targeted, relevant communication based on buying behaviour.
Use of data to plan and support their multi-contact approach.
Use Google tools for reach via display nework, adwords and remarketing with complex algorithms to ensure CPA is  lower than LTF.
He summed up the approach as 'Programmatic, Performance Marketing to develop data and analytic'
Case Study 2 How to plan for digital transformation
Following Niall, Chris Ketley from EDF Energy reinforced how planning can generate ROI for the business. 'The three drivers to Digital Transformation are changing customer behaviour and demand, technology and competition to see how companies engage internally and externally'.
EDF Energy went through a process of setting targets, identifying outcomes looking at the vision, strategy, digital capabilities UX, technology and the people. From applying a digital plan and framework (to be shared in next week's slides), they looked at 5 themes (Leadership and Vision, CX, Operational process and the Business Model) to manage the transition to share and delivery their vision and strategy into actionable results.
Result: in 4 years EDF Energy went from zero to 55% of EDF's self service accounts taking place online.
Case study 3 Integrating SEO and Content Marketing
BT delivering Digital Transformation for their online business
BT Global Services, manages over 40 websites across 11 languages, and accounts for 39% of the BT Group. John Pannell, Senior Online Marketing Manager, spearheaded their #Artofconnecting campaign, driving optimised content through their website, integrating social media for reach, to to push factual content to customers and information to key influencers.
How did BT they achieve digital engagement?
Content and Search: Reach - Listening theme via LinkedIn and Tumblr, assessing themes and stories from competitors, community, influencers and keywords.
Internal Engagement and transparency: Engaged key stakeholders including CEOs through sharing campaign information internally, webinars and information including social media guidelines.
Optimised website: New landing pages and consistent messages for tailored audiences. Integration with social media ie blog feeds, links etc.
PR:  Relevant targeted content.
Key learnings:
Set KPIs to measure, tab and track report and further analyse.
Offer consistent messages in America, Germany and China but be aware that some content may need to be more tailored for other audiences.
Throughout Digital Transformation, it's important to manage the customer experience, like any campaign. Bob Egner, VP of Product Manager at EpiServer , spoke about how companies including Norrana and Frigidaire have achieved this as well as connecting their brand with their consumers.
Norrana, a high end apparel ecommerce, focus on delivering relevant content than hard direct sales. They ask the question - what do their customers consider before buying a garment and in the magazine, share information on how the material is made and events such as bird watching and other outdoor activities.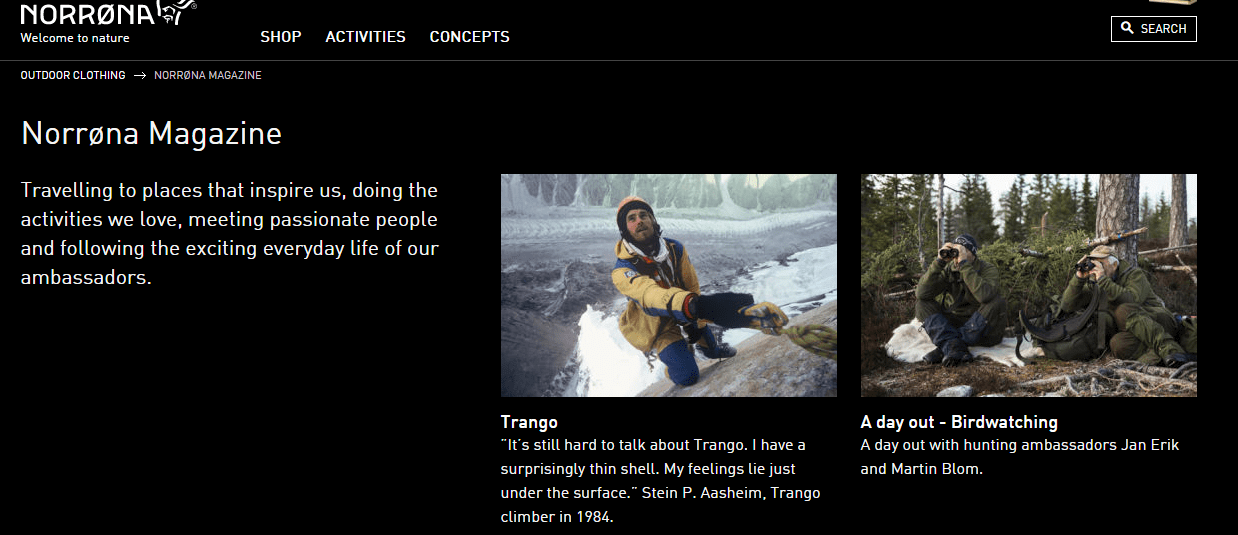 Whereas Frigidaire, are changing their online presence through understanding that the customer has a relationship with their brand rather than than the retailer, and provide useful content such as how to style your kitchen,
'Campaigns to showcase how companies develop relationships through delivering content with the brand to help the consumer with their path to purchase'.
We have seen two examples of how companies are using content powerfully as part of DT and another case study is from Dominos Pizza
Case study 4 - The Domino's Pizza mobile strategy
Mark Holden, Domino Pizza's Agency partner at Futures and Nick Dutch, Head of Digital, were seeking to be more innovative and grow their sales, by understanding the changing behaviour of consumers and know from research that 'Service Innovation is key to marketing' .  Data analytics gave them the insight to understand further how consumers are buying and from which devices, leading to the introduction of mobile apps and optimise their website for online ordering.
Nick shared that they found "those purchasing on mobile app were still likely to collect pizzes instore than receive collection and admitted that they spent too much time on developing an Android App when it only accounted for a small percentage of sales. It's trial and error as everyone refers to
To close the conference Dave looked ahead in his talk marketing predictions for 2015.