We're big fans of using the web for qualitative feedback using the many types of website visitor feedback software. These tools really enable you to find out what web users think and feel about your site and your brand online, while the web analytics are more about the how and when web users interact with your brand.
Around a year ago we did an interview with Kampyle where I asked Eran Savir, their co-founder about how their online customer feedback tool could be used for feedback. We've been using Kampyle since we launched Smart Insights and have found it really useful for feedback. We get around 30-40 pieces of feedback each week and average around 4 out of 5 which we're pleased with - thank you for telling us what you think. What we find most useful though are the occasional negative comment which really make us sit up and change where we can - we're working on a new site design and plan to refresh the design in a couple of months hopefully.
If you haven't seen the output from this type of tool, this is our dashboard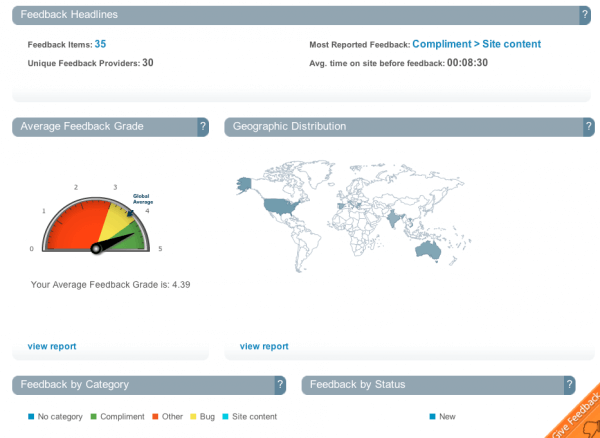 You can then drill-down to see individual feedback - this is nice feedback, but others have complained in the past to help us adjust!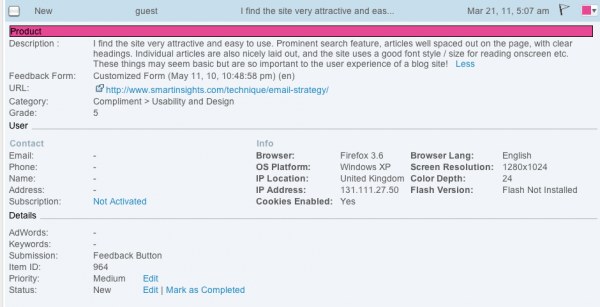 The new Kampyle lead-generation service
As with all good startups, Kampyle have listened to their customers and developed their product, so in this interview I ask Ariel Finkelstein, co-founder and CEO of Kampyle about their new lead generation tool.
Q1. What inspired you to launch your new service?
When it comes to customers' feedback, we do as we preach. Kampyle carefully listens to what its customers have to say. In mid 2010 we started to hear from our customers that they were using our service for Lead Generation. Of course our Feedback Form system did not answer all the requests and needs relevant to Lead-Gen. Therefore we delved into it with our customers and started to develop our Lead Generation system together with them in order to optimize our service and guarantee to answer all their specific needs.
The main request we answered, was the need to have the leads automatically directed to the right action within a company. Three turned out to be the lucky number in this: The first contact is done by an automatic email replying to the feedback. This enables a "soft sell" approach optimizing conversion. Secondly, if the email approach was not successful the details are sent to the CRM and the sales team starts to work on this lead. Third and long-term way of communication is exposing the visitor to marketing activities of the company, such as newsletters.
Q2. How does it work for the end user and a business?
Nearly 60% of the visitors who leave feedback via Kampyle also voluntarily provide their real contact information such as  phone number and email address including an opt-in to newsletters. Those visitors are looking forward to hearing back and when they really are you have the "Wow" effect – they are amazed that the website owner actually took the time to get back to them. That is why Kampyle's customers report that up to 45% of visitors who leave feedback convert to a sale.
Marketing managers often invest significant resources into PPC and SEO to increase traffic. However, the average online conversion rate remains an unsatisfactory 3 percent.  So even with an increased traffic you still face the fact that 97 out of 100 website visitors are left out and are clicking away without taking any action at all. Do those 97 visitors have something to say about their experiences on the site? Do they have a way to say it and are they heard?
Unlike traditional lead-generation methods, Web-based feedback unlocks a level of intelligence directly from customer-generated discussions. Such feedback based leads enable sales and marketing teams to establish a real relationship, while at the same time pre-defined parameters identify a lead's status. This kind of lead generation provides the means for e-businesses to demonstrate their understanding of customer needs and close more and better sales, faster.
Q3. Can it be used by B2C companies or is just B2B lead-generation. Could you give us some examples of who is using it?
Our Led-Gen system is very flexible and adapts to the needs of both, B2C and B2B. Take TattooSales for example, run by Tattoo Manufacturing, the world's biggest manufacturer of temporary tattoos: They address private customers as well as resellers, and generate qualified leads from both using Kampyle. TattooSales sees a 220% increase of the average order value for site visitors, and a 10 times increase in conversion rates verses the normal conversion rate not via Kampyle.
Small as well as large B2C companies are using Kampyle to increase opportunities to convert visitors. UK online music store Reidys was also using our feedback tools, but once they started to apply and track their feedback using our lead-generation tools, they reported that 25% of visitors leaving feedback were ultimately converting to a sale.
Q4. Should companies have any privacy or trust concerns since customer feedback/satisfaction is being used for lead-gen?
Certainly not! This is by far the cleanest way of generating leads. It starts with the visitor reaching out to the company. Leaving one's contact details clearly means that the visitor wants to hear back from the company. Using the full potential of Kampyle's system, the automatic answers to the feedback will always response to the needs and issues brought up by the customer.  Conversion via Kampyle is done using a "soft sell" approach: The website owner doesn't get back to a visitor to sell something, but the opposite. The visitor is responded to his feedback and at the end he is offered a present of a 10% discount for his next buy as a "thanks" for taking the time to have given a feedback. It's a win-win situation and everyone is happy.
Q5. What analytics are available to see which pages are successful in generating leads?
The heart of our system is based on the idea to communicate with the website visitor at the time and the moment that matter.  Each feedback and possible lead is fully tracked and identified by the exact location it came from and the issues chosen by the visitor. Like this our users easily spot problematic as well as promising pages on their website.  Of course we are all aware of the importance to gain more input on such critical spots as landing and registration pages or online shops. Our system does this and more, it detects feedback from all pages, and let me tell you, there are always surprises, as to where a website excels or fails.
Kampyle allows its customers to create pre-defined rules determining who will view which feedback form, where and when. This customization gives almost endless possibilities, for example you may make the rule: Show this feedback form only to users that came from that PPC campaign, pressed this specific keyword and were on the landing page for at least 5 seconds."  With rules like this the analytics reports our customers receive are accurate, to the point, and a source for immediate sales actions as well as evaluating long-term goals for a company. Many of our customers see the analytics gained through Kampyle as an integral part of their business intelligence.