A briefing on the options for creating more relevant, personalised offers for online shoppers
A recent report from Razorfish showed that 76% of businesses don't use behavioural targeting (or at least 'C-level' execs who responded to the survey weren't aware of it it being used in their companies). In this article, Jose Carlos Cortizo explains what Behavioural Targeting is and introduces how it can be used within E-commerce sites. Many of these approaches can and should be used for other types of business, so you may want to serve different content or offers to returning visitors for example.  
What is behavioural targeting?
At its simplest, Behavioural Targeting is segmentation based on customer behaviours. One benefit of Behavioural Targeting is the ability to organize our customers based on variables related to their behaviours, such as the number of visits they have made to our online store, what products they have bought, what categories they prefer, if they have registered as a member or not, etc. You can also establish what should be done after certain behaviours are observed.
So Behavioural Targeting represents a great leap forward from using traditional customer segments, that are usually based on demographic variables: sex, age, location, etc. Although this is a traditional method for segmenting our client base, the variables that we use in the database are rather generic and do not provide a realistic representation of the necessities and interests of each of our customers.
Using demographic data is great when we do not have access to further knowledge about our customers. But in an online world, where we can track every customer action in our online store, we have access to a really big database of behaviour patterns that we can use to offer unique and more relevant shopping experiences
Let's take a look at an example so we can understand the benefits of Behavioural Targeting. In this example, a customer has a higher purchasing power, but they always buy cheaper products that fit their necessities. This suggests their profile is that of a saver and pragmatist, so it will be complicated to convince them to spend $800 on a smartphone.
Using a traditional approach based on demographic data, we would be offering that user top-notch and more expensive products that they would never buy. Using behavioural data, we are able to detect their behaviour patterns and realize that they prefer to buy cheaper and not so sophisticated products.
We cannot know the motivations of our customers, but if we can fully analyze behaviour patterns then we are able to design maximally effective marketing campaigns, both externally and within our site.
To be able to make the most of the Behavioural Targeting tool we utilize, you have to:
1. Create customer profiles based on their behaviour.
2. Define the actions that we want to associate with each profile.
Types of behaviours by which we organize our customers
So, which types of behaviours are we interested in when we segment our customers based on their buyer profiles? It will depend on each specific case and in general it can be any behaviour, but here are a number of common and important ones:
1. Data referencing the geo-location and device used
It turns out that it is very easy to extract the geolocation of our customers to varying degree of accuracy. This can be at the continental, country, regional or city level, even knowing if the customer is accessing the site from a building associated with a large company. This information is very valuable because even if all we know is that a customer is accessing the site from say, New York, and we sell clothes online, it will be a better to offer them coats or clothes for a more humid and cold climate. However, to shoppers accessing the site from warmer regions, such as California, we can offer the most suitable, top-quality products for that type of climate. In some countries such as the UK, region or city-level data is less accurate and we can only really rely on country-level geo-location.
The device used to access our website is another type of information that shoppers provide us with. This can also result in different levels of detail. For example, we can know if they accessed it from a desktop computer, from a tablet or from their smartphone. This permits us to determine some of the possible causes for their visit.
2. Data referencing traffic sources
Other data that the shopper offers us the moment they enter our website is the traffic source which they have used to arrive at our store. For example, we can know if they came via a Google search, if they were referred by social site, etc. We can also know (although this data has become increasingly more restricted) the keyword used in Google to arrive at our website.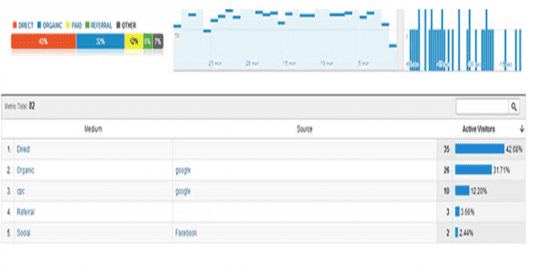 What good is this information? Well, from my perspective it has many benefits. For example, if we have launched a specific campaign in AdWords saying that we have the best prices, leading the shopper to access our store, thanks to the campaign, we can then repeat that message in our store (i.e. in a pop-up advertisement) so that their experience is consistent. Or if the user comes from Facebook, we can show a pop-up encouraging customer registration using Facebook login. [Editor's note - unfortunately, search-term based targeting is a lot less relevant now that search engines have hidden this data as "not provided"].
3. Data referring to the number of visits the user has made to our website
The information about visits allows us to tailor our message. For a new user who doesn't know our website, you can display messages more focused on discovering distinctive site features to convince them that we are 'reliable'. For repeating customers, the messages can be more in-depth describing other store benefits.
We also can segment users according to the types of contents they visit, the depth of journey on previous visits, or even the number of times they have visited a specific product that they haven't purchased yet.
In fact, if we detect that a customer has visited a specific product a lot of times in the past, we know for sure that they want to purchase that product, but something is stopping them from finishing the purchase. Maybe they don't have all the information they need to be absolutely sure of purchasing that product. Or maybe the problem is that they are waiting a discount or promotion.
What can we do in those situations? For instance, we can set a behavioural rule to show a click-to-chat or click-to-call button when we detect that behaviours, so we can have the opportunity to convince them to make the purchase.
4. Data referencing member purchases in our store
Purchase-related data is more interesting because when the user makes their first purchase on our website, we should not attempt to convince them to buy more but rather build their loyalty. With respect to sales, we also have a plethora of data to categorize our clients by: the number of total sales, number of products which they have purchased, average number of products per purchase, number of carts the user has created, etc.
With a behavioural targeting tool we can automate the application of on-site marketing rules, oriented towards loyalty for customers who have already bought from us. For example, would it not be interesting to show some type of loyalty discount oriented towards those customers who have bought more than 2 times in the past month?
Personalised recommendations for types of behaviours we can apply as consequences of Behavioural Targeting
The advantage of Behavioural Targeting is being able to segment shoppers based on more than their actual behaviours because that importance decreases if we are not able to interact with shoppers in real time on our website, offering them a personalized experience.
Besides product recommendations, we can also consider the larger internal world of Behavioural Targeting. In this article we are going to see distinct types of actions we can apply within Behavioural Targeting to personalize the shopping experience of our customers.
1. Show an opt-in email popup   
As e-commerce Manager, we usually want to get the emails of shoppers who visit our store. In general, a typical approach to collect those emails is to show our shoppers a mailing list signup form just when they arrive our site, or after X seconds. A lot of e-commerce websites, try not to be aggressive at all and only collect the emails of the customers when they complete a purchase.
If we turn this around, we realize there are times in which customers are more receptive to offering us their email. They may also value our store and be more interested in having us save their email.
For example, when a user adds a product to the cart for the first time, two aspects come together. The user is showing a true interest in a product in our store and has a better chance of buying it if they are only browsing. On the other hand, it is the user who theoretically wants to buy the product and thus is more valuable to us, because we know their buying intent is higher and we also know what they want to buy!
In the next image, we show a pop-up that PoolFunStore, a Spanish e-commerce that sell pools and accessories show to their customers. Their approach is very intelligent. If they don't have the email of a given user, when the user adds a product to the cart, they present a pop-up asking the user for their email, with a really soft message, where PoolFunStore states that they need your email to assist you better in the purchase process.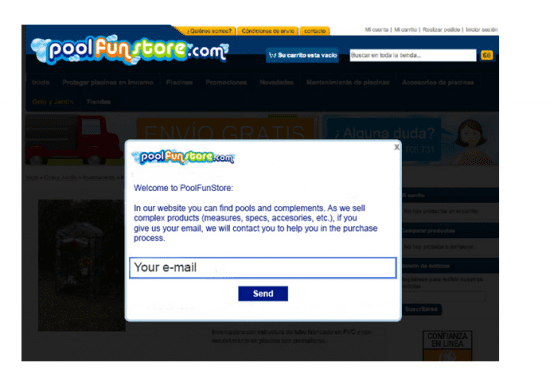 2. Replacing or adding web content
Another interesting action that will allow us to apply Behavioural Targeting is the ability to replace or add content to our web page. For example, Amazon uses its stores to redirect traffic from one country to another. In the next screenshot we can look at how the main site of Amazon.co.uk (Amazon in the United Kingdom) provides a normal shopping experience with Amazon reminding us that if we are entering from Spain we might be interested in logging in directly to Amazon.es. To do this, you can simply insert a content block with an image and link which only appears for members who log-in inside Spain.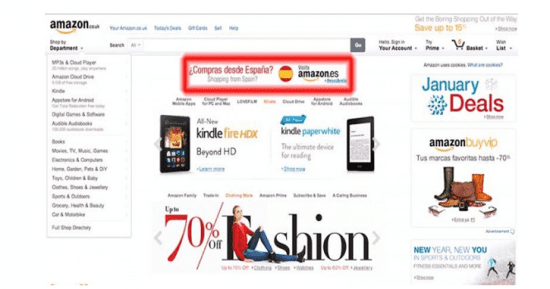 Another possible application of this type of action involves being able to see the creativity used on home pages online or included in the category pages. With Behavioural Targeting, we can have a predetermined series of generic campaigns but set specific rules that permit us to make the campaigns visible, which can seem apparently minor but can have a large impact on some categories of our clientele.
Let us imagine Toys R Us determining that there exists a category of customers that are not a young audience and not interested in Lego products geared towards children of a certain age, such as Lego Mindstorms. To determine this interest we can do it the easy way: if the user has visited a product of Lego Mindstorms in the last 30 days, they should be interested in this campaign. So for this category of shoppers, we show creative ads focused entirely around Lego Mindstorms.
3. Offers, coupons and discounts...personalized!
The last action that we want to highlight within the possibilities of Behavioural Targeting (while a multitude of possibilities remain) is to offer specials, coupons and/or discounts only for those customers who 'deserve' these rewards, who have done something in our interest. With this type of rule in Behavioural Targeting we should see ourselves as closer to creating scenario rules and no longer rules triggered by specific user behaviour.
The next image shows how 5mimitos, an online store focused on products for babies, shows a discount code to their best customers. The rule is activated when a customer that has made 3 or more purchases in the last 3 months visits 5mimitos (the message of the promotion has been translated from Spanish).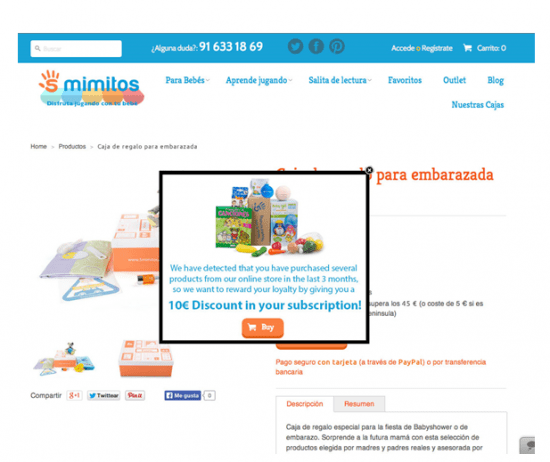 Why offer rewards only to a small portion of our visitors instead of to all of them? The answer is very simple: not all of the shoppers have the same value. That is to say, a member who buys from us every week should be treated much better than a member who visits but has not yet purchased anything, since the latter has not contributed anything of value to our business. Unfortunately, in many cases we continue rewarding many of the visitors who are simply gossiping or searching for the best prices and we forget to appropriately care for our best customers.
Gamification can be seen as a special type of Behavioural Targeting. When using gamification in our online store, we need to associate specific user behaviours with intrinsic or extrinsic rewards. Most approaches to gamification in e-commerce are based on extrinsic rewards (promotions, discounts, etc.), but we can appeal to other motivations of our customers.
Recently, Victoria's Secret has launched a Spring Break Scavenger Hunt in its Pink Nation app. The in-app contest asks their customers to find each of four icons that spell out P-I-N-K. Throughout March 2nd, each week, one letter will be released. If you are able to get all the letters with your mobile device, you could get 'sweet surprises'.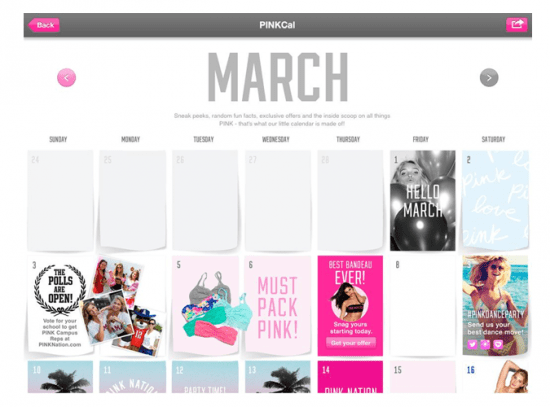 With this Scavenger Hunt, Victoria's Secret is trying to increment the engagement with their customers.
They offer their customers an excuse to visit their site, at least, weekly, so they are exposed to more products of the brand, promotions, contents, etc. A good way to modify your customer's behaviour and trying to improve your goals, while making a delightful user experience.
5. Up-selling and cross-selling
We can also use Behavioural Targeting to improve our average order value. We can do so by means of up-selling and cross-selling strategies. For instance, GemLn.com, an online jewellery, uses the following strategy. By default, when visiting a product, they show their customers similar (but more expensive) products. A classic up-selling strategy.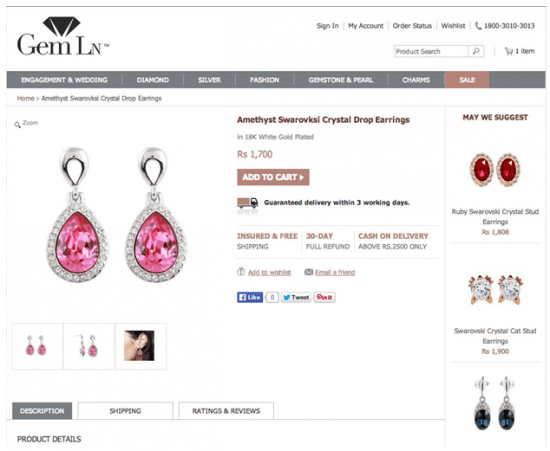 But if they detect that the user tends to buy several products in the same navigation session, they  change that up-selling strategy for a cross-selling strategy, showing their customers complementary products.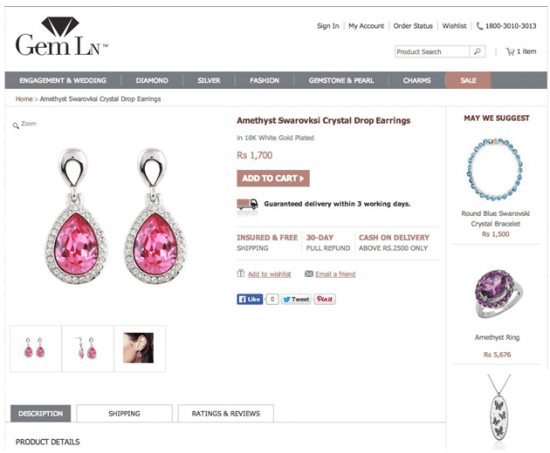 This is an advanced use case of Behavioural Targeting related to up-selling and cross-selling. At least, a Behavioural Targeting tool for eCommerce should let you to define what product recommendation strategy to use when the user is visiting each type of page. The most common product recommendation strategies for each page type are:
Alternative products / Up-selling in the product page
Cross-selling in the cart page
Personalized offers in the home page
Personalized offers restricted to a specific category in the category listing
Which tools can you use to make these personalised recommendations? Well, there are many - see this post on website personalisation services.
Thanks to Jose Carlos Cortizo for sharing his thoughts and opinions in this blog post. Jose is Co-founder and CMO of BrainSINS. Angel investor in several tech startups such as SinDelantal, Tockit, Gamification etc.  He writes about E-commerce, Online Marketing and Gamification.