Email Subject Line Guide
How to craft effective subject lines to boost email open rates
How will this guide help me and my business?
Email marketing consistently ranks alongside SEO in the top two for delivering ROI when marketers are surveyed. Email marketing is a highly effective marketing channel when done right, but many email marketing campaigns suffer from low open rates and even lower click rates.
Yet each year, competition for attention in the inbox for your marketing emails increases.  This means all the effort put into the copy, design and imagery for your email will be limited by the number of people who open it.
Every email marketer knows the importance of Email subject lines since they appear in email clients without the email needing to be opened. Since they are so important we are pleased to share an in-depth guide by super-experienced Email marketer Kath Pay showing you how to craft and optimise email marketing subject lines.
Who is the guide for?
It's no surprise this guide is for Email marketers! It has been written to be useful both for those just starting out with email marketing and for more experienced email marketers. A familiarity with email marketing is assumed, so if you have limited email marketing experience and need a grounding in the subject more broadly then we recommend downloading our Email Marketing Guide for Expert members.
How is this guide structured?
What does the guide cover?
The guide covers the '3 steps to conversion' that are critical to success with email marketing. To help you optimise your subject lines the guide covers 'everything you need to know about subject lines including':
What a great subject line involves
What should be avoided when creating subject lines
How to write subject lines which compel action
How to get attention with your subject line
How to achieve 'longitudinal wins' with your subject line
What should be considered when crafting subject lines for mobile
How to utilise gap theory, social proof, scarcity, loss aversion and emotion to create persuasive subject lines
How to optimise subject lines via testing and analytics
Resource Details

Individual
Business
Individual or Business members get full access to this and 13 other guides in the Email marketing and Marketing Automation Toolkit.
Learn more about membership
Already an Individual or Business member?
Login here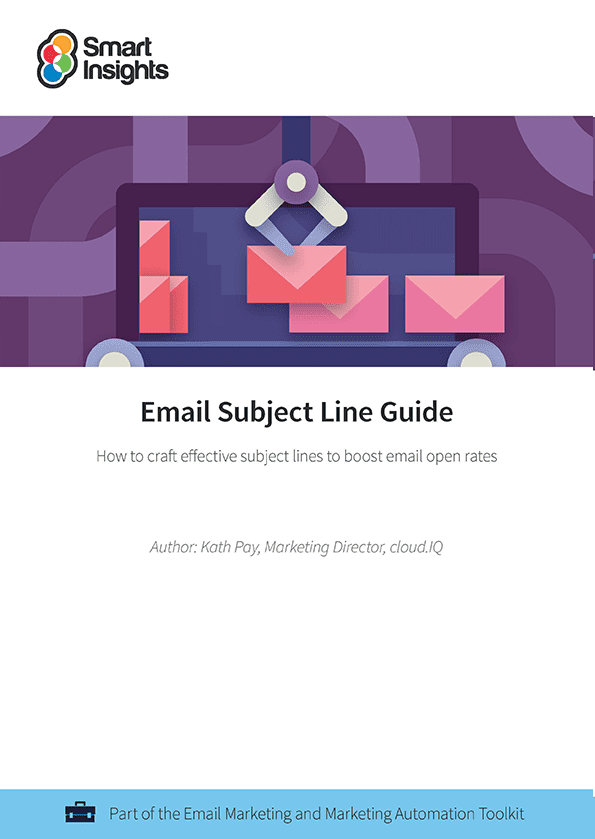 Look Inside