Digital Marketing Models Guide
Frameworks and mindtools to create digital audits, strategies and plans
Why do I need this guide?
We believe that models are powerful 'mindtools' to help marketers use a more strategic approach to improve their digital marketing when they create plans to exploit digital marketing.
Two years ago we created a free guide to the most popular Marketing models which was particularly popular with university students and professionals.  Since this time we've been asked whether there was a guide to the new range of digital marketing models to develop digital strategies, so we now have this new guide with the top 10 models the authors, Annmarie Hanlon and Dave Chaffey use in their teaching and books.
The guide lists 10 models structured in sections for digital audits, planning and strategy. Digital Marketing models are useful ways to structure your efforts and can help you tease out insights where you previously were unable to. However, you will need a good grasp of the different models available and have a good understanding of how they work. That is what this guide provides.
How is this guide structured?
This guide is broken down into 3 main sections which the 10 different marketing models fit into. These are:
Audit Models 
Forrester's 5Is
Lauterborn's 4Cs
Ten C's of Marketing
Planning models 
6Cs of customer motivation
Hofacker's 5 stages of information processing
RACE planning
Technology acceptance model
Strategy models
4Cs for marketing communications
McKinsey's consumer decision journey
The Honeycomb model
For each model we explain what it is, who originated it, how to apply it and give examples of how it can be used.
Resource Details
Authors: Annmarie Hanlon and Dave Chaffey
Last updated: January 2016
Format: 10,000 word, 54 page A4 page PDF Ebook with illustrations and checklists
Companion guide: Free Essential marketing models guide

Basic Membership is required
Get access to this and 27 other sample guides and templates with a FREE Basic Membership
Join for free and get this sample guide
Already a Basic member? Login here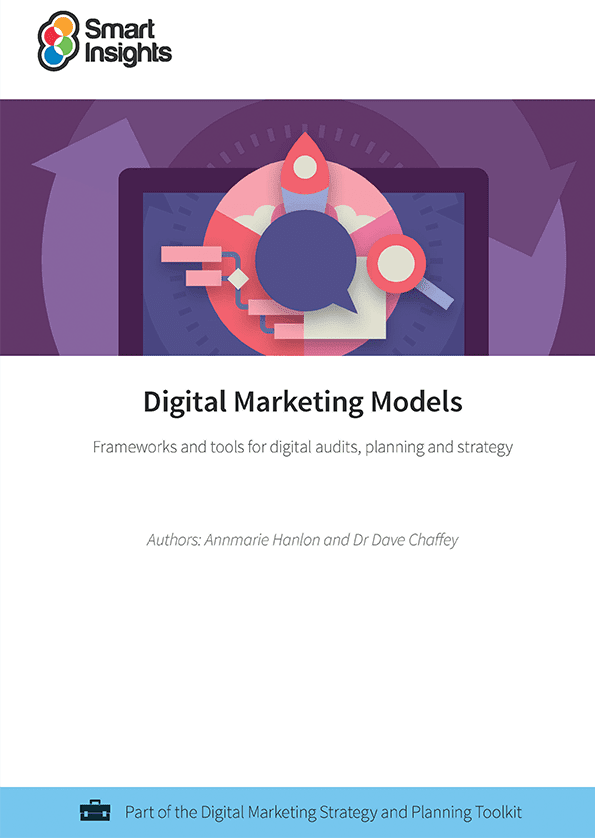 Look Inside