Ad Retargeting Guide
Learn how to boost conversion using display advertising across ad networks
How will this display advertising guide help me and my business?
Retargeting has become one of the most popular forms of display advertising since it gives the opportunity to reach prospects or customers who have already interacted with your brand to persuade them to buy after they have left your site.
Targeted reminder ads served to previous site visitors are so effective in prompting conversion that they have one of the highest levels of ROI for digital media.
This briefing is for you if you want to know the options and best practices or if you're not sure how to get started. It will also help if you are already running retargeting and want to make sure you are doing it right and increase ROI. Constant changes in display advertising mean it is ever more difficult to keep up with the latest technology. Use this seven-step guide to find out how to you could be getting more out of your retargeting campaigns.
Who is this guide aimed at?
This guide is aimed at marketers who have heard about the promise of retargeting, but want to know the steps they need to take to implement correctly, or ask their agencies questions to improve ROI. Typical roles who will find this guide useful include:
Marketing managers
Digital marketing managers
Ecommerce managers
Agency staff who are new to retargeting
How is our ad retargeting guide structured?
This guide is structured in 7 short sections which explain the options for retargeting and step you through the decisions you need to take to set up your campaigns:
Introduction: What is retargeting?
Step 1: Define your goals
Step 2: Segment your audiences
Step 3: Tailor your creative
Step 4: Select your retargeting methods
Step 5: Choose your retargeting partner
Step 6: Implement tracking
Step 7: Test and learn
Recommended resources including suppliers and reference sites
Resource Details
Guide format: 25 page PDF download with tables and examples of the options
Related Smart Insights resources: Quick Win guide to Facebook Retargeting – a practical interactive guide to using the Facebook pixel for retargeting on Facebook. Details on re-targeting across the social networks are available in our cheat sheet.
About the authors
Emma Ashby, Display Analyst at Epiphany
Amy Bott, Experienced performance-based media consultant and Head of marketing

Individual
Business
Individual or Business members get full access to this and 6 other guides in the Paid media Toolkit.
Learn more about membership
Already an Individual or Business member?
Login here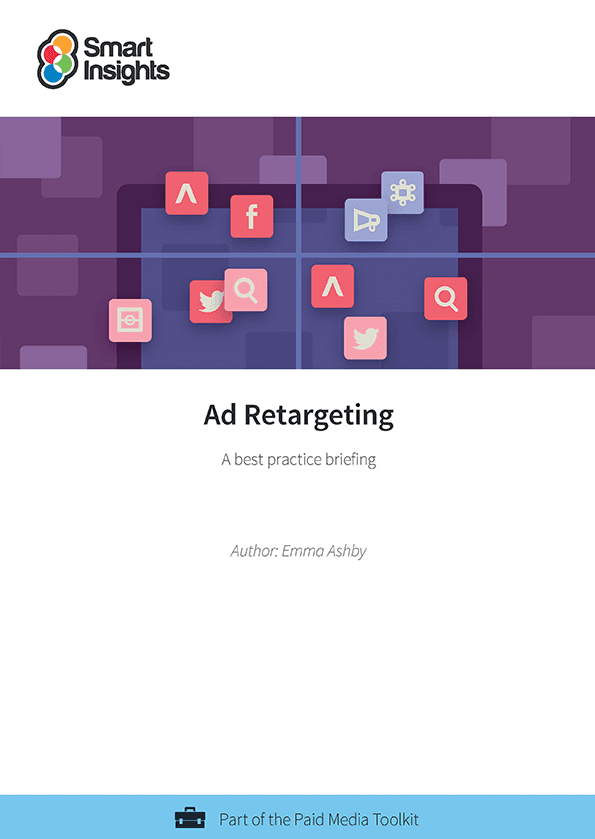 Look Inside