4 methods plus examples of integrating email and social media marketing
Integrating your email and social media initiatives can boost email revenue by as much as 400 percent according to industry studies, and the latest research continues to show that email and social can work together for the benefit of both. So how do you effectively link email and social together?
Here are a few statistics that show the benefits from integrating email and social media marketing.
Evangelists spend 13% more than the average customer and refer business equal to 45% of the money they spend
On average a Facebook fan spends $71.84 more than a non-fan
Of Facebook users who "like" at least one brand, 17% say they are more likely to buy after "liking."
The percentage of active social media users across ALL age groups is growing year on year
So if social evangelists spend more than your average customer and then help refer business (through their sharing of your content – pinning, liking, tweeting), then how do you start making the email and social work together more effectively? Here are four ways I've found effective.
1. Use Email marketing to drive social media engagement
It's straightforward to design in "Follow us on …" social links in your emails to make recipients aware of your social presence and help direct traffic to them. You need to give them enough visual prominence in the email as in the examples I've included below.
But what's more effective is  to create specific email campaigns to promote social happenings, such as a new Facebook competition or a newly created group on LinkedIn, and use that to drive awareness and boost visits.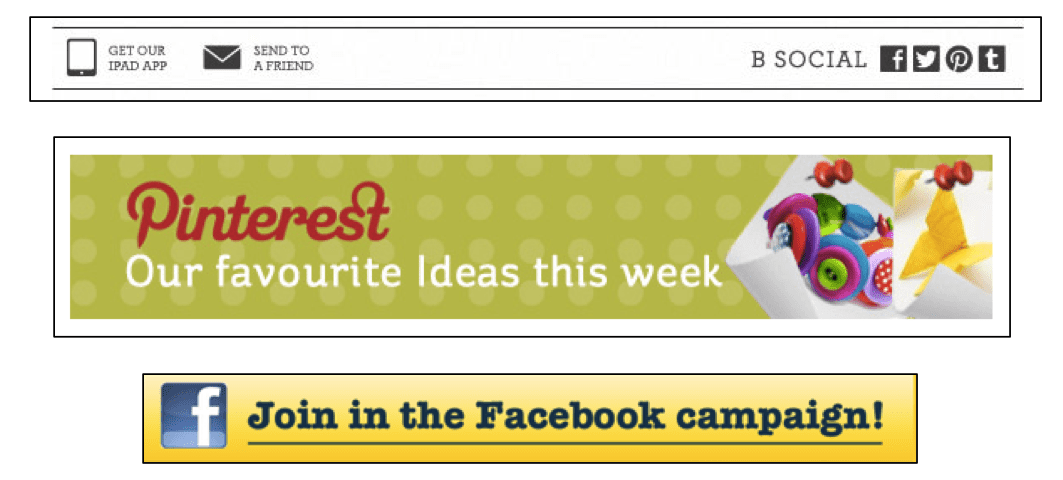 2. Use Social Media to Extend the Reach and Awareness of Your Emails
When you want the world to be aware of your latest offer, promotion or event, use that as an opportunity to encourage recipients to share that good news to their network by including a social-sharing call to action in your email and making this part of the main content.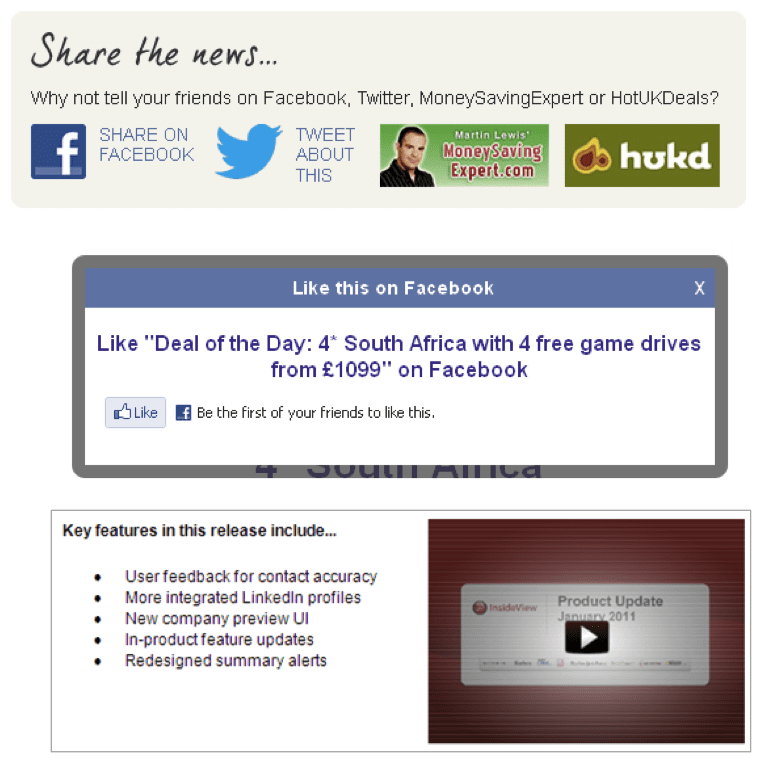 Additionally, within the content of your existing email messages you can encourage recipients to declare their brand affiliation and influence their friends and followers to follow suit and retweet; other examples include:
a) Include your "@" or "#" tags as calls to action beneath appropriate content, enabling recipients to add their voice to the online discussion.
b) Ask customers to 'like' your content or encourage social sharing using call to actions such as: "Share the news"
c) Highlight the latest images you've pinned or ask your customers to get involved with your activity on Pinterest
d) Show a video still (video is incredibly sticky content) and link through to your YouTube channel
e) Ask customers to upload their photo or comments to Facebook, Pinterest, Twitter.
3. Use Social Media to Drive Email Database Growth
While email can be used to promote your social media presence, these social properties can, in turn, return the favour and drive the growth of your email database.
Highlighting your newsletters on your Facebook timeline and YouTube channel or showing the subscription landing page URL on your Twitter page is an excellent way to direct fans and followers to your opt-in form and grow your database.
Second, leverage your marketing technology platform's Web forms feature to create and host your opt-in form on Facebook. Depending on your platform, your database will then be updated in real time every time a form is submitted, enabling you to send a triggered welcome email to engage your new contact immediately.
Below is a great example from Teletext Holidays, note how they've also done a great job with the copy in such a confined space and made sure that the link is on the first line of the banners area.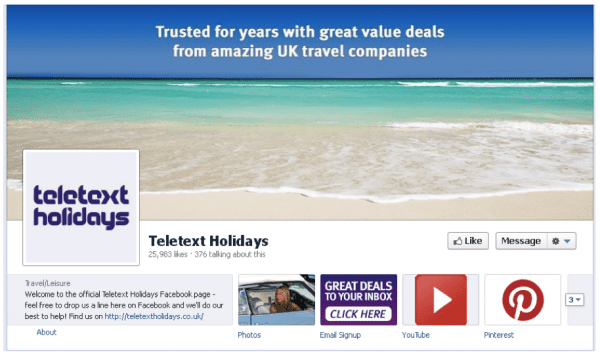 4. Use Peer Reviews and Content to Influence Purchase Decisions
For retailers, including star ratings and reviews from your website into your emails will help support purchase decisions; if you're a B2B marketer, consider using case studies, quotes and analyst rankings in the same way.
A savvy way to raise website footfall and showcase the top-purchased products or most-searched destinations on your website is by including "Our Top 5 Products" or "Your Favourite Destinations" lists within your email. This can noticeably increase traffic to those pages on your site.
Thomson use their most popular onsite searches to help recipients choose an destination, whilst bmibaby put this into a Top 10 list:

Finally, more specific user-generated content, such as pictures, videos and recommendations, can be used with great effect to provide more value to your email content. You're probably already collecting most of this content via surveys, competitions, reviews or case studies, and your social interactions, so why not use it to raise advocacy levels, increase the value and relevancy of your content and influence purchase decisions?
Tucan Travel ran a Facebook competition for the best 'wacky snap' then followed by promoting this in their emails.

Here is an example from a National Geographic email promoting their campaign to get the best shots from their readers.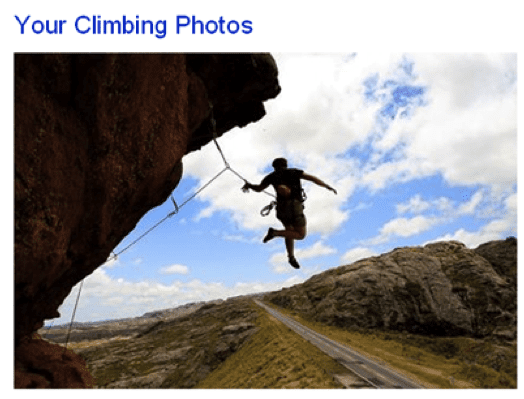 Content like this is great for brand affinity and encourages further and deeper interactions across both email & social.
Summary
When integrated in a well-though-out, strategic fashion, email and social can drive the performance of the other, influence key metrics and, most importantly, increase revenue.
What have you found works for you?