3 Examples suggesting future trends in multichannel social commerce
We're always on the lookout for examples of new technology in action in the hope they'll spark ideas or just because they may be a pointer to new trends. Here are a couple I've enjoyed recently, which combine digital technology in the offline world with the online world and include a social element. I've resisted the temptation to call these "multisocial" as some have…
Tesco Homeplus Virtual Supermarkets
You may have seen the  example in 2011 from South Korea of the virtual store in a subway? Well now (August 2012) we have the first example in the UK, this time it's Tesco in Gatwick. The idea is for those who like to plan ahead when they're waiting before they fly. Tesco says the idea "came from customers". I don't think so, more likely it's to raise awareness of home shopping amongst the thirty thousand who use the airport each day.
Has anyone tried any exhibitionist grocery shopping? Is there much competition? Navigating 20,000 products via this interface scares me, so I  think I'll stick to shopping in an app on my laptop.
Here is the original example from 2011. Shopping on the way home with your QR code reader on your smartphone? A great vision of the future isn't it? Or not?
Nedap Retail Tweetmirror
I picked this one up from someone attending a course last week (thanks Phil). As you can see, you can share from the store with others at home
More innovation ideas from Trendwatching
Trendwatching have an annual report on Innovation I'd recommend. The example I've chosen from their top 10 again shows how QR codes are this time used for integrating back to learn more about or add value to the product. Interesting!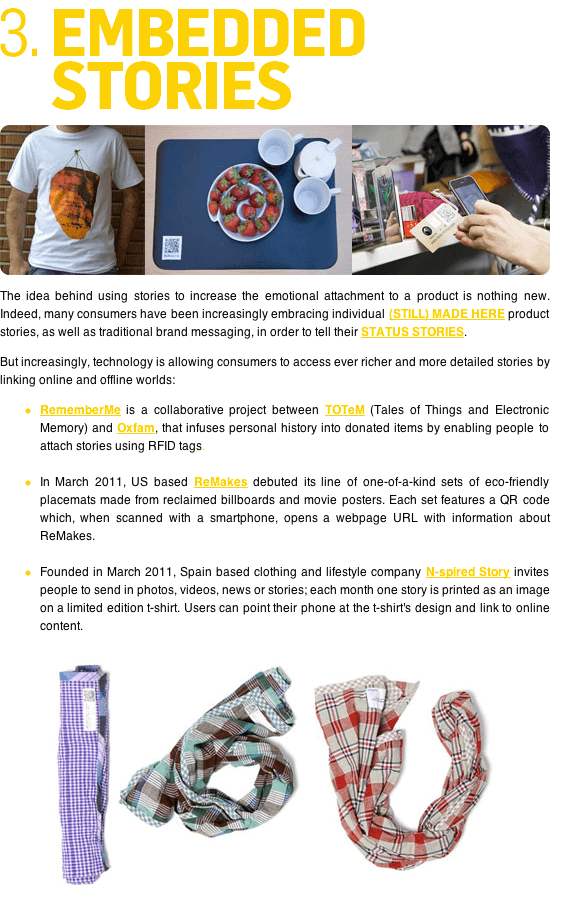 We've more background on QR code marketing with this post from earlier in the year.
Do you have any links to other cutting-edge or just interesting innovations to share?