Use this simple calendar for retailers to ensure you don't miss any of the key dates for your ecommerce site this year
One of the most important aspects in any e-retailer's strategy is to adapt your marketing plan and website content in accordance with different e-commerce events. Dates for events such as Christmas and Valentine's Day never change, however, every year there are different events that you need to remember in order to keep your website and user experience feeling fresh!
You will have your own calendar, but maybe missing some events. To help you prepare and compare some of the most important events in 2016, we're sharing this simple e-commerce calendar for 2016. This calendar regroups all key events and themes so that in as little as a glance, you can track when to prepare your online store for all commercial events in the UK.
Adapting your marketing strategy for important shopping events comes with many advantages:
Fulfill customer expectations: not only do users want to avoid outdated websites, they also expect to find what they are looking for quickly. Add themed links to your headers to help users find event-themed promotions that they are looking for as quickly as possible.
Boost your sales: creating dedicated landing pages that contain themed products can help to improve your SEO and also be used for seasonal AdWords campaigns.
Communicate with your existing client base: open up opportunities for communication via email and social media to tell your current customers about your event-themed products and special offers.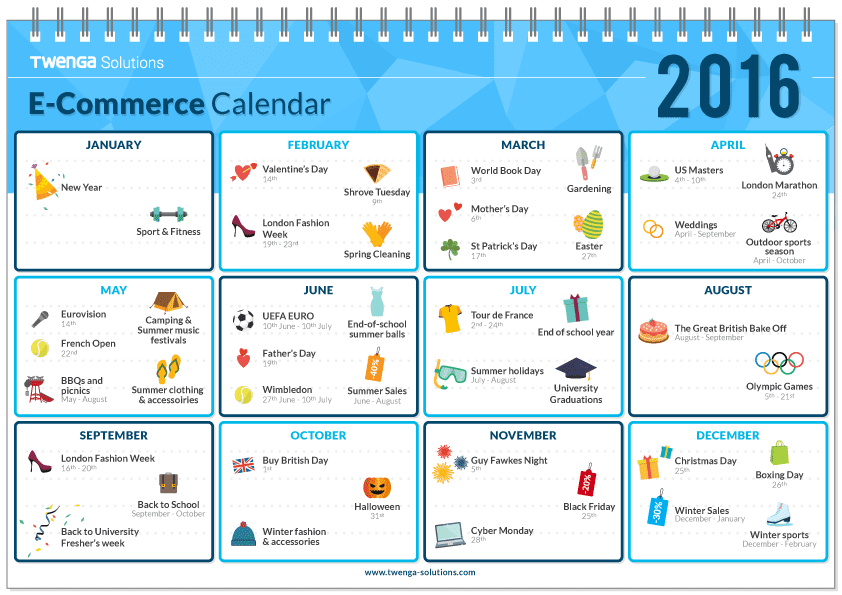 Thanks to Twenga Solutions for publishing this calendar