Why is marketplace analysis important for digital marketing and what does it involve?
For me, marketplace or situation analysis is a key part of creating a digital marketing strategy.  We've included it as the starting point in our RACE digital strategy planning framework - it includes these key areas for defining the future opportunity or potential for digital marketing for which I've added examples at the end of this post.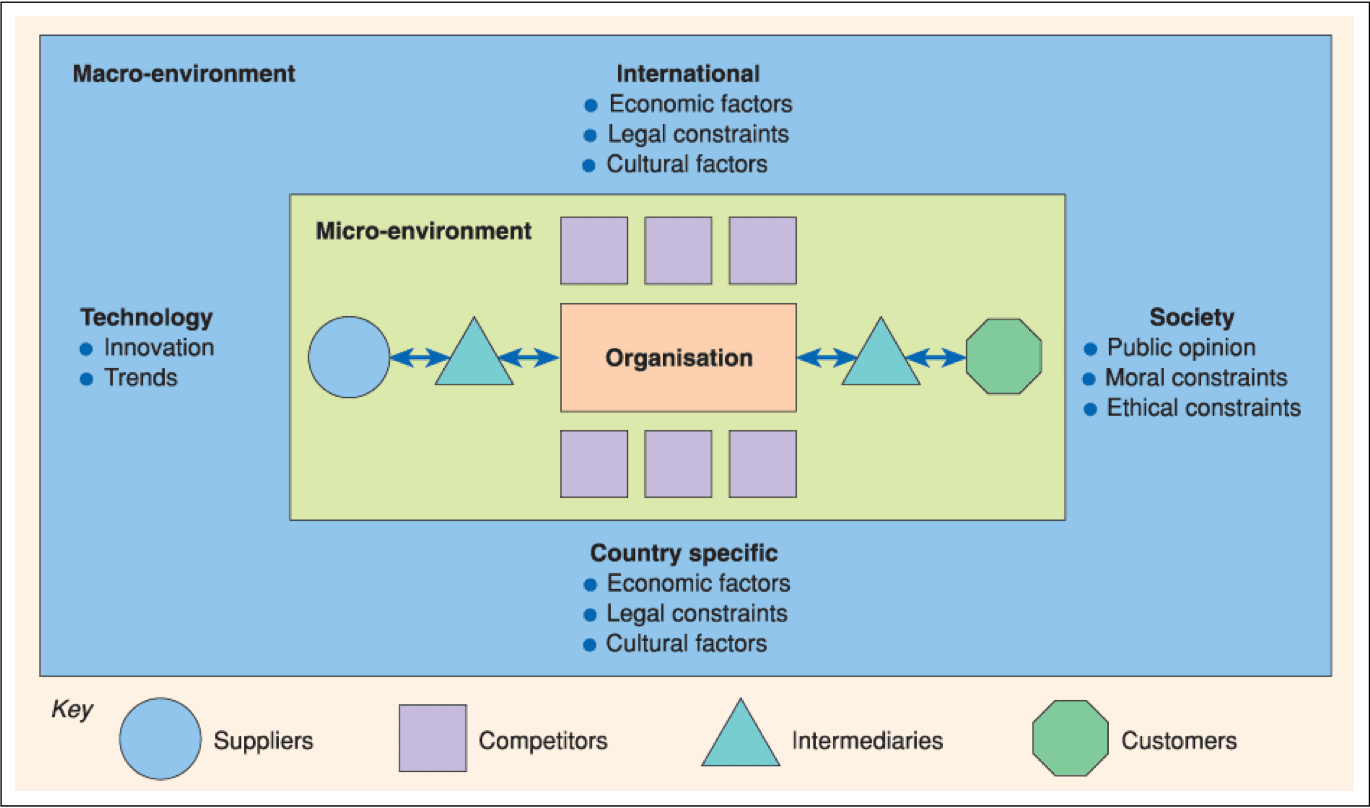 But some, maybe many, would ask "what's the point of situation analysis? We don't have time, why don't we just get on with our search, social and email marketing to hit our sales targets".
The problem with this, is that if you're always operating in "campaign execution mode", you don't really know what's possible from digital marketing; you're "shooting in the dark".
For us, taking time out regularly for situation analysis is essential since it allows you to be realistic about what you can achieve from online marketing and prioritise to get the biggest uplift from your efforts.
I remember one Ecommerce Director I talked to saying it's benefit is allows you to "Size and Seize the Prize!" But it's not just the size it's about identifying all manner of strategic opportunities or current inefficiencies which are missed if you're sweating the tactical.
The benefits of marketplace analysis
I'm sure you would agree that the growth of the Internet has vastly increased competition for acquiring new customers for most businesses. As Google explained in it's Zero Moment of Truth (ZMOT) whitepapers it's now natural for consumers to turn straight to a search engine to review competitors or check out reviews on comparison sites or in social media to help select the best product or supplier for them.
Marketplace analysis can help you compete by becoming more customer-centred in your online marketing since it will show you:
How customers research and select your products. Research gathering insight on how users search and use social media will help you understand how you can gain visibility on search engines and with relevant influencers.
Where you need to improve the marketing effectiveness of your site. Competitor benchmarking using personas can show you how well your site and marketing is appealing to different audiences and you can learn from marketing approaches used by other competitors for traffic
Potential revenue improvements from gap analysis. You can justify increased investment in digital marketing by showing what potential lead and sales increase you can achieve for based by creating conversion budget models of the size of online audience searching for your products or services and potential sales
How your marketing capabilities compares. How your digital marketing capabilities compare to direct competitors or out-of-sector sites to help create a roadmap of new projects or to implement "quick wins"
Where the quick wins lie. Where are your biggest inefficiencies in search, email marketing or different parts of your website which you need to fix.
Future opportunities and threats. Using a SWOT analysis will highlight  future opportunities and threats from new digital or marketing platforms, for example currently communities, mobile and branded applications or utilities.
What is online marketplace analysis?
In modern marketing, it's essential that situation analysis aims to summarise an organisations online marketplace and its own performance to help devise or refine a digital marketing strategy.
In my books I summarise different areas to review as part of broader marketplace analysis using this classic view: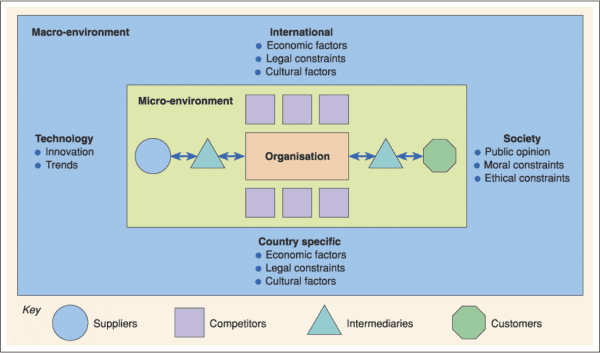 Marketplace analysis should always start with your online audience and involves review of these 4 main areas, asking these questions and analysing the dynamics of the interactions between:
1. Potential online audience - "What are their profile, characteristics, behaviours, needs and wants of audiences from digital media platforms?
2. Customers - A similar analysis to potential audience, but also gaining feedback on their views of your current online presence. Defining personas is an essential technique here.
3. Competitors - Benchmarking the capabilities of direct competitors for your services and indirect competitors for traffic or review of other sites for "out-of-sector" best practice.
4. Online intermediaries, influencers and partners - Establishing the strengths and weaknesses of intermediaries who can included current or potential partners to reach and influence your audience. These include different types of publishers from general online news to more specific blogs and affiliates. Intermediaries also include social networks and communities
You can see we have separated out potential and actual audience since it's worthwhile doing a "gap analysis" to see who your actual audience or customers are against potential audience and then take steps to build your audience.
I often find that students working on assignments for marketing diplomas don't start with these four key areas, but instead focus on the macro "PEST" factors since textbooks seem to overemphasise them. Always start with the customer!
After you have reviewed the broader marketplace, it should also include a review of your current capabilities. Benchmarking your capabilities to deliver
What are the deliverables from situation analysis?
For an in-depth situation analysis, each of the different players in the environment should be reviewed in detail. For a briefer review, a marketplace SWOT analysis can be produced to summarise the actions
1. A Marketplace map summarises the main audience types, competitors for traffic and traffic flows between them.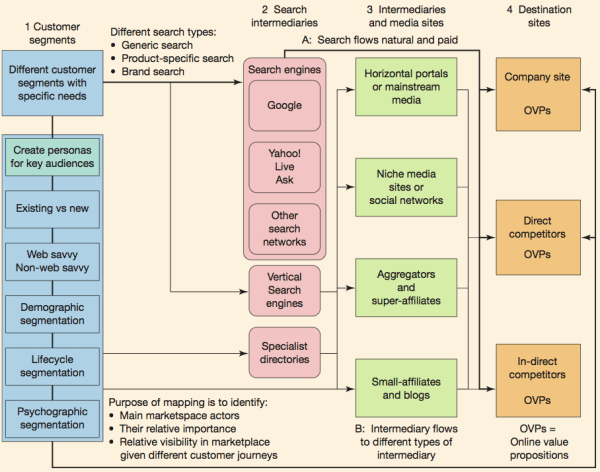 The search section works best if it includes specific types of customer searches. As in this example for the mobile phone marketplace in India.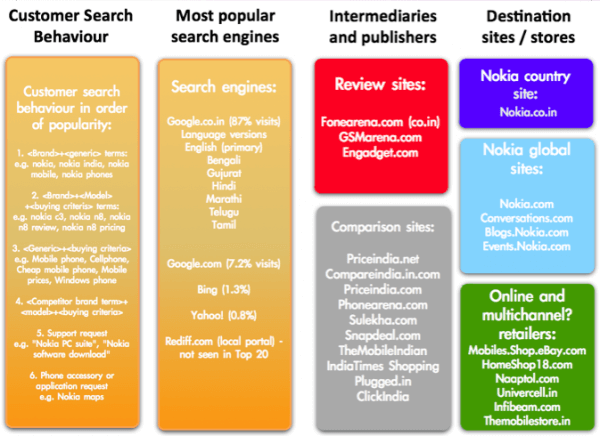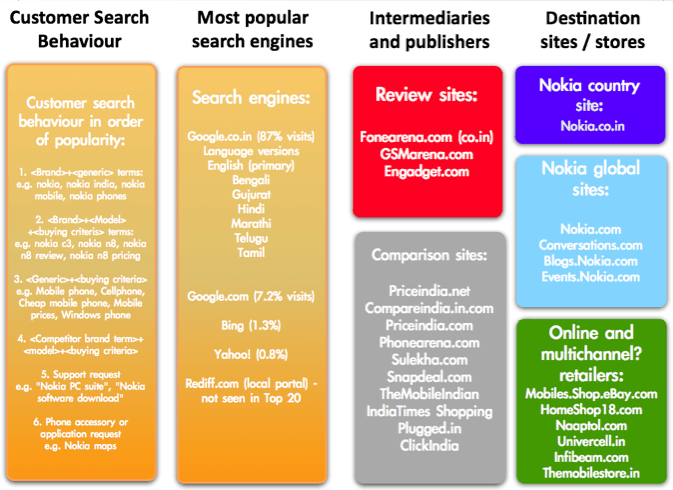 I recently saw this marketplace mapping visualisation presented by Rich Kirk at Brighton SEO which I love since it overlays different types of touchpoint point on the customer journey against Paid Owned and Earned media (definition).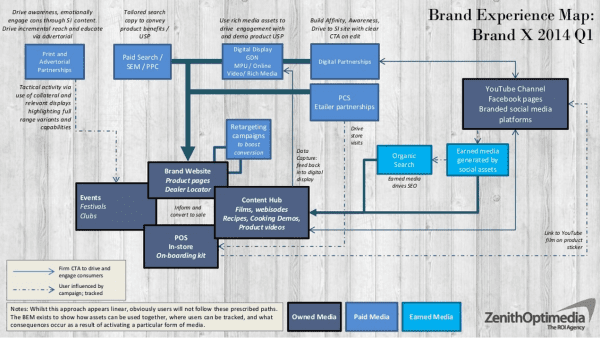 2. Customer and audience analysis including target customer segments, keyphrase demand-gap analysis. These can inform conversion or budget models as part of goal setting.
3. Online competitor benchmarking study of customer experience and site effectiveness.
4. Company capability review including governance and structure of digital media in a larger organisation.
5. A digital marketing-specific SWOT summarising the main issues to prioritise on once the analysis has been completed.
Examples of marketplace analysis and word and powerpoint templates to help perform a marketplace analysis are available for Expert members in our online strategy toolkit.