The only way is… Local SEO.  A tutorial on how to optimise your website for Local Search.
It's vital that you optimise your site for local results if you have a local sales presence. Google wants to provide their 'customers' the best possible and most relevant results and nowadays you don't even have to type the location after your search term or be signed in to get local results.
Let's have a look at how to make sure your site is well-optimised for local search:
1. On-Site Optimisation
If you're just starting to optimise your website for local search the first thing to do is to ensure that your core location is included in the following on-page key elements:
Title Tag
Meta Descriptions
Headings (H1,H2,H3..) – Not all of them but occasionally
On-page – The site copy as well as on the page itself (e.g. within the footer area)
This is really a no-brainer and good SEO practise which will give a big signal to Google.
We're not talking about stuffing the keyword in where it isn't relevant, just in the times where it lends itself well to the text. So if you are not sure whether all of the above elements contain your location now it's time to double-check it and take action if needed.  
Structured Data Mark-up for Local SEO
Marking up your website with structured data is becoming more and more powerful in the SEO world. If you haven't heard of structured data and rich snippets then read on so you don't miss out on potential clicks and business.
Structured data is HTML code which helps search engines better understand the elements of your website. The search engines then extract information from your website and display it in to the search results as Rich Snippets. These can contain additional information such as location, reviews, author details and more.
In general, rich snippet can provide you a lot of benefits including:
More visible rankings
More qualified traffic and therefore better conversion rates
Correctly implemented structured data can even increase Click through Rates (CTA) by 30%
In terms of local search, marking up your business's address with structured data will help search engines to understand your location better and they can also display your address as a rich snippet in the results. Such a richer listing can then appear as more relevant to the potential customer who can reward your hard work by clicking on your listing.
Mark up your website for richer listings
There are a few ways you can mark up your website to make your listings richer and more relevant for users. You can either use popular Schema.org templates and/or Google's highlighter tool:
Schema.org have many templates you can use to mark-up different items on your website from local addresses, company logos, products to music albums and more. Successful implementation of Schema.org templates requires a bit of coding; you will need to manually amend the template so it corresponds with the information on your website and then upload it to your HTML code.
However, there are websites which will do the coding part and generate the code for you.  A good example is Schema-creator.org where you simply fill out the form with information relevant to your business. You will then need to copy the generated code and implemented it on your website.
Here's an example of a simple form you will need to fill in, in order to get the mark-up for a person:
2. Google Webmaster Tools Data Highlighter
You can also use the data highlighter in Google Webmaster Tools to mark up the item details such as your local address on your site.
With this point-and-click tool you simply tag/highlight the data with your mouse; hence the name, 'highlighter'. It's a really simple process as there is no coding involved. The Google Data Highlighter tool can be found under 'Search Appearance' section in your Webmaster Tools dashboard: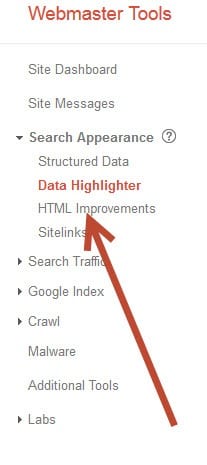 You can choose to highlight the following items on your site:
Local Business Addresses
Products
Restaurants
Articles and Events
Movies and TV Episodes with Ratings
Software Applications
You can also mark-up data types such as Flight/Event/Hotel/Restaurant Reservations.
However, if you have your business address in the footer of your site and therefore it appears on every page you should mark up the address where it appears first; which is you Homepage. The same rule should be applied for all of the items you want to highlight; mark up the item on the first page it appears on. 
2. Off- Site Optimisation
Registration with the top search engines
The first step you should take when it comes to off-site optimisation is registering and creating fully completed and official local business profiles on major search engines such as Google, Bing and Yahoo.
Google+ Local is the most essential platform that should be used.
Major directories and local portals
Your business should have a listing in the below directories and local portals. However, it's good to remember that when filling in the information about your business you should ensure that you use the same name, same format of the address and phone number every time as any small variations can have an effect on the way search engines use this information.
Local Directories
Local Portals
Social Media Profiles
With social and search merging, having a social presence online is now more important than ever. With out of date signals starting to hold less value, we believe social signals will play an important part in how your website is ranked.
You should therefore take time to set up social media profiles especially if you are a business with multiple locations (agents or franchisees). To ensure that your social profiles are optimised for local search it is best practise to include the location of your franchises within your descriptions.
The location should be included in both the location as well as in the bio:

Creating and maintaining a Google+ local page is a no-brainer. Having a strong presence on Google+ together with a fully setup profile is essential for your website's visibility.
Your business's location needs to be again included within the introduction: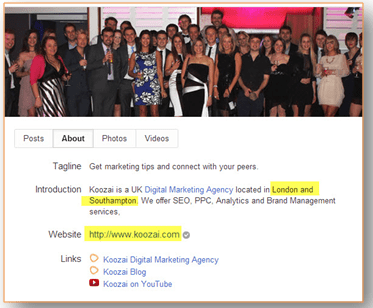 If you operate in more than one locations all of your agents/franchises should have their own Google+ local pages.
When optimising your profile don't forget to specify the location rather than only listing the address.
The screenshot below has been taken from the Koozai Facebook profile to show how you should specify the location when setting up your profile: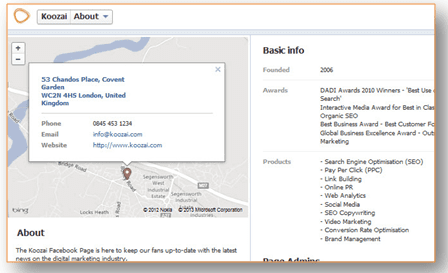 Last but no least is FourSquare. You should 'check your business in' by adding or claiming your listing on FourSquare . Fill in all the extra information about your business including a couple of images as well as links to your website and other social profiles.
Reviews
In general, reviews play an important role in customers' decision making process and they can positively as well as negatively influence their final decision.
Stats never lie; the Local Consumer Review Survey revealed that more than half of the respondents are more likely to buy from a local business if it has positive reviews.
When it comes to local SEO and reviews, Google+ should be the first point of focus followed by the major directories like Yelp and Qype. Although these hold less value than Google reviews they still do count and will help you to strengthen your local profile.
Here are some good 3rd party sites you should also focus on when it comes to gaining reviews:
3. Business with Multiple locations – Franchise/Agents
If you are business with multiple locations but your agents or franchises have no separate websites then you will need to create separate pages for every location you operate in. This step is really important especially after the Google Penguin 2.0 Update which makes the local results more integrated.
Therefore, if you want to rank higher in local search results you will need to create a location specific page for each of your physical office/shop.
However, when creating these pages avoid using duplicate content. The pages need to be relevant and tailored to the services/products you offer in that particular location. The same local optimisation scenario should follow to ensure that the location appears in all of the on-page factors.
4. Local SEO and Google Analytics help
SEO and Google Analytics go hand in hand especially when it comes to local SEO. Google Analytics can provide you with a great deal of local data to work with. The basic information about your visitors, their location and language can be found under Audience > Demographics > Location/Language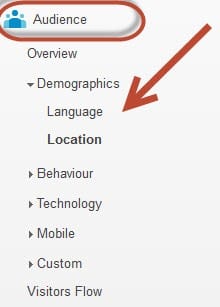 Online Media Masters came up with a simple dashboard that will give you the following insights:
Visits by state
Visits by continent
Visits by city
The list of cities with slowest website load time and which causes exits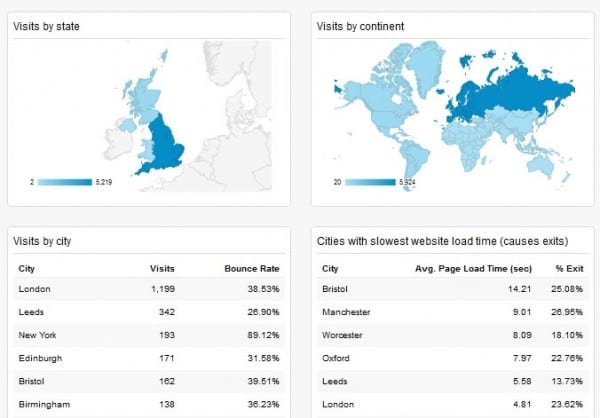 You can download Google Analytics (set for UK data)
Advanced Techniques using GA for local SEO
Let's move from basic to a little bit more advanced techniques that will help you get the most from Google Analytics for your local SEO.
Local Search Segmentation
We all know that local directories that concentrate on offering their visitors the ability to search for local businesses/places are still very valuable. A recent Yelp Consumer Survey  conducted by Nielsen revealed that the intention for users to visit Yelp is to buy a product or service and 89% of respondents buy a product within a week of finding the business on Yelp.
Therefore, having an optimised profile on Yell, Yahoo local, Bing local or Google maps can act as a valuable source of traffic and have a positive impact on your sales. Google Analytics can help you find out which of these sources are beneficial to your bottom line and determine which listings you could improve.
With a little help from advanced segments and regular expressions (RegEx) you can easily see all the traffic that local search sent to your website and identify what the visitors coming from local directories do once they land on your website.  Ed Reese at Local U  explains the process of segmenting all of your local traffic with RegEx. By applying this segment you will be able to compare each source against the overall local search traffic. This will help you identify which source needs a little bit more optimisation.
Ed created a free easy-to-read dashboard which includes the 'All Local Search Traffic' widget as well as other useful information such as:
Top pages viewed via local search
The traffic from Google Maps
Goal completions
Local search traffic by city and more
You can download the GA dashboard.
Ranktracker for keyword rankings
Tracking Keyword Rankings in different cities  - RankTracker
By uploading a small amount of code you can understand the ranking positions of the keywords sending traffic to your site more effectively. Justin Cutroni came up with this new code that will enable you to track your keyword rankings for the visitors landing on your website.

If you would like to know the theory behind it and the technical bit including the code check out James's blog post about the RankTracker method.
The data gained through the RankTracker takes into account personalisation and location and is a more accurate reflection of your sites true rankings.
Once installed you can see the data under Content > Events and Top Events: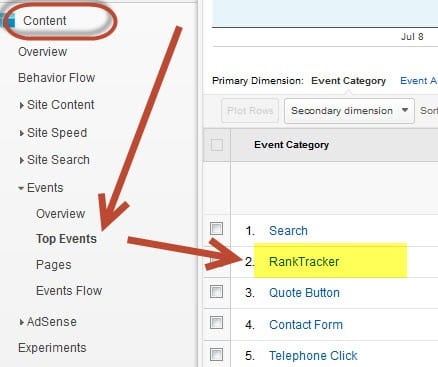 After clicking on RankTracker and selecting 'City' as a secondary dimension you will get the average keyword rank in different cities.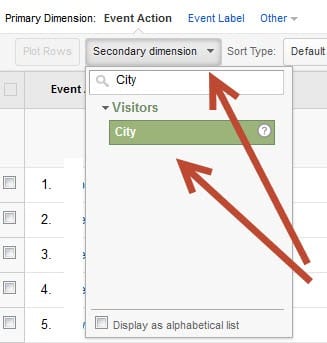 From the example below we can see:
The keyword – Event Action
The city
Average rank of the keyword – Average value
Total visits – Total Events
As you can see Google Analytics can provide you with a great amount of valuable data to work with in order to improve your local SEO campaign. This information will give you an idea what source or location you need put more work on.
So there are key areas you to look at when optimising for local search. It's essential to start with on-page elements to give Google a good signal about your business location. Don't forget to check your website performance in Google Analytics and extract the insightful data about your local SEO campaign.