Use the RACE Planning System to get ahead in your digital marketing
The first edition of my Internet Marketing: Strategy, Planning and Implementation book from 2000 included a popular template for creating what we then called an Internet Marketing Plan.
Today, marketers are understandably even more hungry for guidance, given the importance of digital media. Our RACE planning system is a template based on ten plus years experience of creating and reviewing digital marketing plans for companies and helping students develop them.
Join us as a Basic Member to get our free marketing plan template
You can download the 14 page A4 template from this page when you join and log in as a Smart Insights Basic member.
Download Template Download the free Planning template
Join as an Expert member for our full marketing plan toolkit
Expert members can also download:
A Word version of the document to amend to create their own plans which is part of a set of 8 templates which are part of the digital marketing planning toolkit.
A campaign planning template which is a Word template covering the six key areas you need to cover to create an integrated Internet marketing plan.
The RACE planning system
Our planning process follows the SOSTAC® model developed by PR Smith, Dave's co-author on Emarketing Excellence. It's a great framework since it's simple, memorable and logical. Our RACE framework covers the key areas of the Digital marketing planning across the customer lifecycle: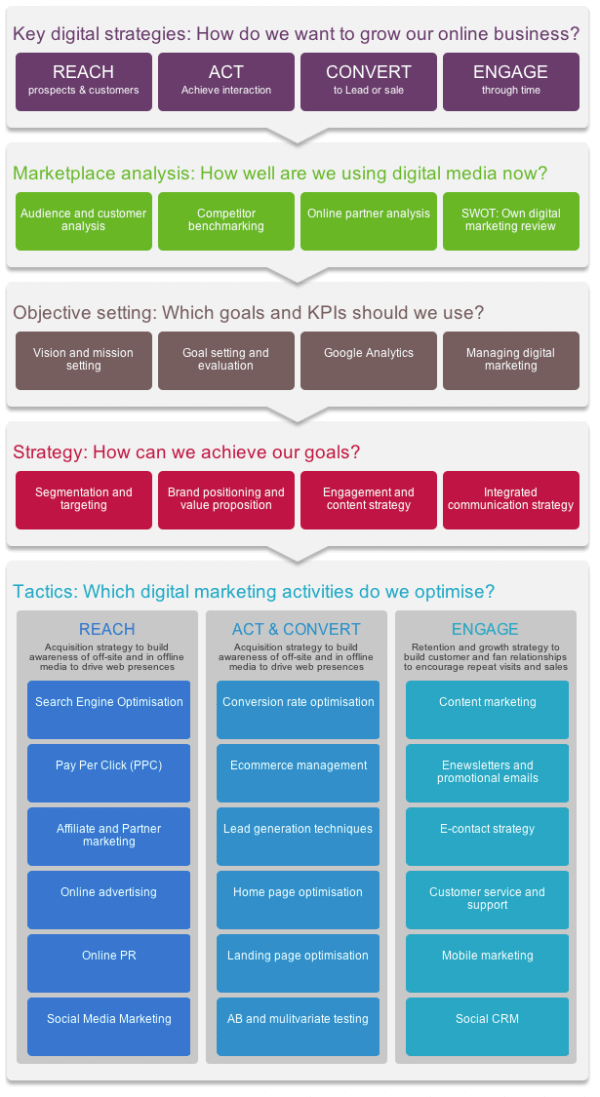 About SOSTAC® marketing planning
SOSTAC® stands for:
• Situation – where are we now?
• Objectives – where do we want to be?
• Strategy – how do we get there?
• Tactics – how exactly do we get there?
• Action – what is our plan?
• Control – did we get there?
Going into more detail, this is the main sections we cover in the marketing plan template are:
1. Situation analysis. Where are we now?
Understanding your online marketplace
The immediate, or micro-environment
A. Our customers
B. Our market
C. Our competitors
D. Intermediaries and potential customers
E. Wider macro environment
F. Our own capabilities
G. Internet SWOT summary
2. Goal-setting. Where do we want to be?
Setting useful, actionable objectives
3. Strategy. How are you going to achieve the goals?
Setting a meaningful strategy
A. Targeting
B. Positioning
C. Proposition and the marketing mix
D. Brand strategy
E. Online representation or presence.
F. Content and engagement strategy.
G. Acquisition communications strategy
H. Conversion strategy
I. Retention communications strategy
J. Data strategy
K. Multichannel integration strategy
4. Tactics, action and control
Tactics
Control
Governance and resourcing of digital channels
5. Executive summary
We have another more in-depth post and infographic on how to use SOSTAC®.