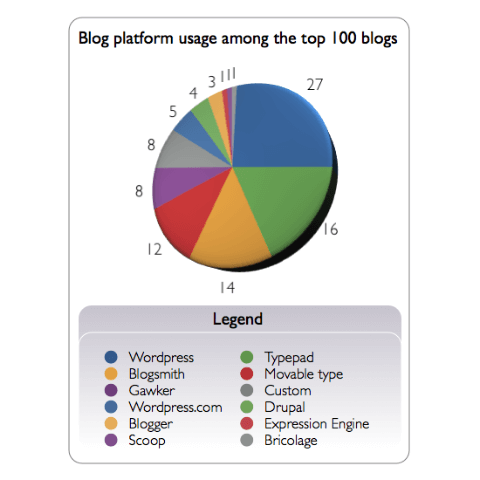 I have a confession.  I use the Typepad text editor and I have even recommended it to others...
This means against the Top 100 blogs shown in the graphic, I sit with Geekdad, The Pioneer Woman and Seth Godin who all favour this easy to use WYSIWYG platform.   But Typepad is not the mainstream choice, used by just 16 of the Top 100 bloggers.  So what are the choices and what are the SEO fundamentals to check for?
At the heart of any blog is great content, I guess it goes without saying doesn't it?
It also goes without saying that SEO is just as important for blogs as it is for websites.  When you are considering SEO for blogs, there are many established techniques you can use so that search engines can discover your content, however your choice of blogging platform will have a bearing on how much you can achieve.
Here is my advice on the issues you need to think through to make sure your blog plaform is effective for SEO.
Site Architecture
It's down to you to make the navigation for your blog intuitive and simple; the same rules apply for web design as they do for blog design. Make it easy for your readers (and spiders) to access the various parts of your blog without difficulty. Test your blog design and structure with real users and if budgets are small consider low cost usability testing methods or testing with colleagues or dare I say it, friends.
What your blog platform will need to support;
1 Static, Keyword-Rich URLs "€" There are many benefits to static URL"€™s versus dynamic URL"€™s in particular higher keyword prominence and relevancy as well as higher click-through rates in the SERPs, emails and web pages.
2 Pagination Controls - Pagination, the practice of segmenting links to content on multiple pages, affects two critical elements of search engine accessibility; crawl depth and duplicate content. Controlling it through careful use of nofollows and meta noindex tags will make your important content get more link juice and crawl attention.
3 301-Redirect Functionality - From time-to-time as your content base grows you will have a need to redirect traffic either at an article level or site level. The 301 Redirect is mainstream way to achieve this but not all blog platforms offer this particularly the hosted options where you have less control over the site architecture.
Content
Now for the hard part! You will need to create content that keeps drawing people back to your blog.  A post (albeit a few years old now) that might make developing new content that bit easier is '5 Things I Wish I"€™d Known Earlier about Writing Content for a Blog'.  For me it perfectly sums up how giving readers what they want, in a format that they can easily digest, can boost your content impact.
What your blog platform need will to support;
4. Title Tag Customisation  - Title tag customisation is one of the effective SEO strategies to make web pages crawlable and indexable.  Unfortunately, being able to customise your title tag isn"€™t always built in for some blogs particularly free-to-use platforms
5. Meta Tag Customisation - Though not so much crucial as title tag customisation, meta tag customisation is worth a considering. Customised meta-tags go well with blog search engines such as Technorati and can assist content  syndication with automated tools such as Twitterfeed.
6 Image-Handling & Alt Tags "€" When it comes to images, many website owners don"€™t realise that search engine spiders cannot actually SEE the pictures on your site.  Check that your blogging software offers you the ability to customise the file name, alternative text, caption and short and long descriptions to aid getting your image into the SERP listing.
Linkage and Syndication
Finally, you need to create links to your important pages internally, and use appropriate anchor text to direct your readers (and search engines) to content that you feel is important. Link and syndicate externally to diversify your content and link to other recommended sources for information.
I like the quote by Brian Clark 'What people say about you is more important than what you say about yourself'.  He also points out in a recent SEO copywriting post that what happens off your site matters more than what is on it.
What your blog platform will need to support;
7 XML Sitemap - submitting a sitemap to the major search engines should be one of the first actions in your SEO campaigns.  In an excellent post from SEOMoz you can see that Sitemaps do affect crawlers and how crawl time can be dramatically improved through dynamic sitemap generation.  Adding an XML sitemap is usually easy with numerous plug-ins available for blog platforms.
8 Social Media Syndication - Why should I share my content? Well, syndicating your content to other sites has many benefits including reaching out to other related web sites which potentially helps build a following.   Allowing your users to spread your content is invaluable and by offering choice you increase the chance that your content will extend beyond the confines of your own blog. Check that there is there flexible RSS support at the topic level, some providers only have a single XML feed option?  Look at what native support exists for the reader to share your content via the main social sites such as Delicious, StumbleUpon and Digg amongst others?
Further reading and links
If you are looking for further detailed advice on selecting the right blog technology then I suggest you read Blog Tips excellent series - Selecting a blog platform.  Also there are some excellent 'SEO and blogging' materials available via Four Elements, SEOMOZ and Dave Naffziger"€™s Blog.
What do you use to make your blog work for you and boost SEO? Feel free to share your tips and recommendations in the comments below.