10 tips to developing your online community
The emergence of social media platforms, online forums, and company or product blogs has led to a number of consequences for brands, including an opportunity (and compulsion) to embrace new ways to connect with their target audience and a desire to build thriving online communities.
The 'secret sauce' that gels a community around a brand can be hard to find, but there are certainly a number of principles which can help take the right approach.
How to lay down the foundations
Preparation tends to play a key part in success, and this is no exception.  Make sure you establish a few fundamental pieces as you embark on a mission to develop your brand's online community through:
Developing and nurturing online communities is an Art. It requires a specific skillset, time, dedication and perseverance. Don't underestimate the resources required and make sure that you get buy-in from key decision makers within your business.  As with any brand-building activity, budget will likely be needed. Don't let it surprise you or anyone else.
2. Aligning your community management strategy to your brand's vision and goals, as well as to your marketing and customer service strategies
These should go hand-in-hand. Keep in mind that the way you develop, nurture, and manage your online community will inevitably influence your brand's reputation.
Your latest TV campaign might help you deliver your messaging successfully, but skilfully handling the ups and downs of your online community and managing your customers queries or complaints will show that you can actually 'walk the walk' as well as 'talk the talk'.
3. Choosing your channels
Brands are faced with an increasing number of online social channels through which to engage with their audience. Think about those most relevant to your brand (social media, blog, forums, groups, etc.).
Consider starting small and learning from your interactions with followers before expanding to new platforms. Avoid the 'ghost town' syndrome by ensuring you don't abandon a Twitter account, product blog or brand forum after a mere few posts. 
4. Letting the experts guide you
Your social media or community strategy is the first step towards success, but the ultimate goal is flawless execution. Make sure you have talented Community Managers on board to support you. They live and breathe online communities and will be your most precious allies in the development of a thriving community.
Community Managers will give your brand a face, a degree of humanity, and will be your strongest advocates. You can't afford to get this one wrong.They should be part of the resources you account for in your initial budgeting.
5. Being clear on your success metrics
Times are tough, budgets are tight. Where there is an investment, there needs to be a demonstrable ROI. Define what that might be for your brand upfront, so that all parties involved are clear on what success looks like and on their responsibilities in achieving it.
Look broader than 'Likes', 'Shares', and 'Retweets'.  Consider looking at the number of mentions your brand gets over a period of time (and compare this to your competitors), comments per post, CTR% on your social media links, mentions from key influencers etc.
Helping your online community thrive
Once the backbones are in place, get ready to execute. Helping your community thrive requires skills and patience. Every Community Manager will tell you that it can be overwhelming, discouraging even at times. Be tenacious.
1. Establish a 2-way dialogue
Amazingly, 27 out of Interbrand's top 50 global brands still don't talk to their fans on Facebook.  It begs the question 'why have a Facebook presence at all?' since this is precisely the USP offered by social media channels.
If you are looking to entirely control what's being said about your brand, social media probably isn't for you. It is about establishing an open conversation with your target audience and being part of the discussions involving your brand.

Most of all, it is as much about listening as it is about talking.
Coca-Cola recently revealed that roughly 10-20% of the content produced about the brand on social media is posted by the brand itself, compared to 80-90% posted by their fans. Whilst this ratio may be hard to achieve for most brands, it shows the company's willingness to truly engage.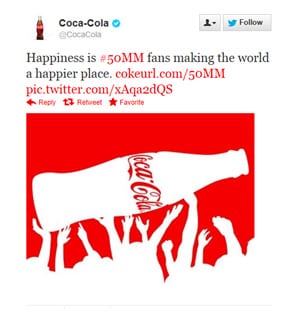 In your dialogue with your community, be open, authentic and responsive.
2. Give your brand a face and a personality
Online communities are a fantastic opportunity to let your brand's personality shine. Is your brand irreverent and fun, is it cool, caring, or perhaps it conveys a certain status? Humanize your brand - community members tend to relate most easily to brands when they have a 'face'.
3. Create content your audience wants – test and tune
Fans, followers and online communities are generally pretty savvy. Plainly regurgitating your latest PR or marketing slogan will not cut it.
The best way to ignite a dialogue with and amongst your community is to post content they are interested in talking about, sharing and engaging with. Vary the content you post (articles, competitions, deals, interactive posts, photos, etc.), and where possible tailor it to suit specific channels.
Test and fine tune as you learn what resonates best with your community. And remember, your content doesn't necessarily have to be solely focused on your brand.
Coke Zero's recent Skyfall competition is a good example of content diversification.  It encouraged Facebook fans to send pictures of their best 007 poses, with a chance to win tickets to an advanced screening of the new Bond movie. Both concept and prizes were slightly removed from Coca-Cola itself.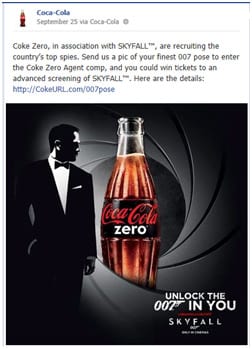 4. Identify, nurture and leverage your key influencers
Leveraging your brand's online influencers is a no-brainer!. They are passionate about your brand, will welcome an opportunity to get involved and will help spread the word and grow your community.
Offer them something valuable in return for their help. It may be previews of upcoming product features, advanced tools which aren't available to the rest of your community, opportunities to be the first ones to test and review your products, free subscription to your members only content, etc.
A few years ago, when Ford launched its Ford Fiesta Movement, it carefully identified and selected 100 key social media storytellers to help spread the word about the new Fiesta.
Each one of these influencers received a European version of the Ford Fiesta months before it was officially launched in the US, and was given a challenge to complete with the car every month for 6 months. In return, they provided rich accounts of their experience across YouTube, Facebook, Twitter, and their own online communities.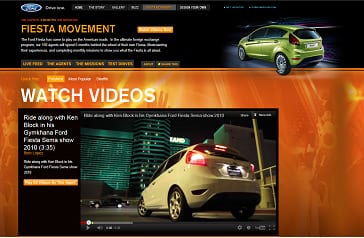 The campaign was a huge success with over 6.5 million YouTube views and 50,000 enquiries received about the Fiesta.
Your budget might not stretch that far, but your imagination can. Find innovative ways to encourage your key influencers to talk about your product.
5. Don't shy away from addressing tricky issues
Whilst sharing interesting content will help develop your online community, it is your handling of tricky situations which will speak volumes.  Not only because it will give your brand a chance to show what it's truly made of, but also because this is typically the type of content that ends up going viral.
Facebook case study with Squishable
A few months ago, Squishable.com, who sell giant soft toys, ran a promotional campaign on Facebook, significantly discounting its usual prices. With over 500,000 Facebook fans at the time, the brand soon became overwhelmed by the response received and started struggling to cope with deliveries.
What could easily have turned into a social media disaster was instead handled with a great deal of transparency and responsiveness from the brand. They contacted all buyers within days, informed them of the situation and assured them of the hard work the team was putting in to honour all orders as soon as humanely possible. Their updates were authentic, humble, and allowed the brand's personality to shine.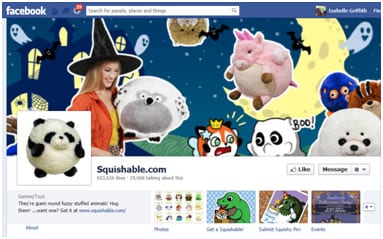 And the PR crisis was skilfully avoided.
When faced with a crisis, remember that the world will be watching you. Do 'the right thing', and do it promptly.  It often pays off to be transparent and upfront. Gratitude and a humble attitude can also go a long way.