How to promote your company blog to reach a larger audience
Writing a blog doesn't end when you hit the publish button. Far from it. In this third part of our series on business blogging, René Power reviews the best approaches to seeding and distributing your blog content - giving it the best chance of being seen by the people you're targeting.
1. Promote it on your website
Add a snippet to your home page. It provides a sign post for visitors and also offers some additional search engine optimisation benefits if you have considered your keywords carefully.
2. Index your blog with major blog directories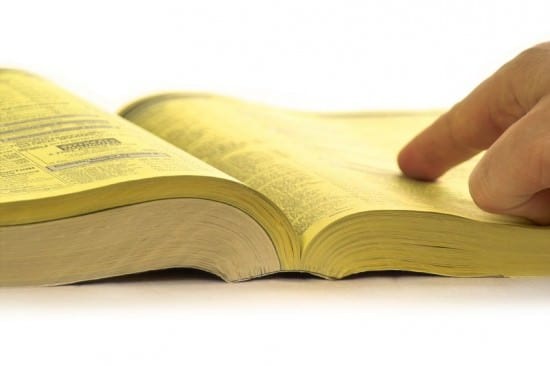 Ensure your blog is listed in as many blog directories as possible, particularly those with specialist sections. Why? Backlinks to your blog are still one of the most important factors in determining how visible your blog (and your website is to search engines). In no particular order, here is a long list, plus a short top ten list that will help get you on the map.
Make sure you use good quality directories though - the easiest way to test this is to make sure the page you want to get on ranks within Google for the type of blog you're running.
3. Promote new blog posts with email.
Email remains the pre-eminent communications tool in business marketing so unless you are publishing blog posts several times a week, consider letting people know they've gone live or think about wrapping them up in a daily/weekly/monthly/quarterly e-newsletter based on your frequency.
You don't need to blog every day, use the frequency that is right for your business and the resources you're putting into it.
4. Get your tweet on
If you blog you simply have to tweet. Different bloggers have different strategies, but I'd counsel that you put a new blog post link (shortened and with some explanation) out to Twitter three times on the day it is published.
Consider where your audience is target them as the working day starts, lunchtime and the end of the working day to coincide with peaks in browsing. Don't forget about your posts. Tweet old blog posts as your archive grows.
Dave's has a useful post on the best tools to save time to share and syndicate your blog.
As part of the bigger picture, I also think it's worth thinking through your influencer strategy here - Dan's post is a good start. I also like this visual in a recent post from Rand Fishkin on increasing blog traffic. It's shows the importance of identifying and working with your content distributors who will be likely different to your core audience :
5. Seed it on Linkedin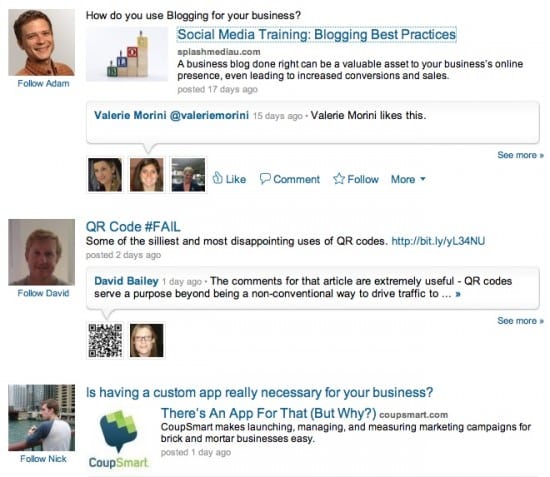 Use your status updates, company status and your membership of key industry groups to post links to your blog. For Linkedin, this means rethinking the title to be more catchy and discussive, perhaps drafting a line of executive summary, posting the link and then following the comments.
6. Post to Facebook
The lines of personal and professional networking are blurring and there has been a seismic shift in Facebook take up by business.
More and more marketing and technology articles are being shared on Facebook and more brands are being followed. Even if you don't consider a Facebook page as a prerequisite for your business, this shouldn't stop you adding the content, and allowing other people to do the same.
7. Use bookmarks
Millions every day use sites like StumbleUpon, Digg and Reddit to find and share the latest information. Make sure your blog posts appear when people are searching for the content that you are focusing on.
Encourage bookmarking using tools like AddThis.com or ShareThis.com.
8. Use other formats
Consider other formats. You've written a blog post, but is there merit in turning it into other content such as a slide set, a podcast, a video, a press release or longer article? Different people respond to different content.
Give your blog and other content the best chance of resonating, and converting a customer by following the advice in this graphic from Intersection Consulting.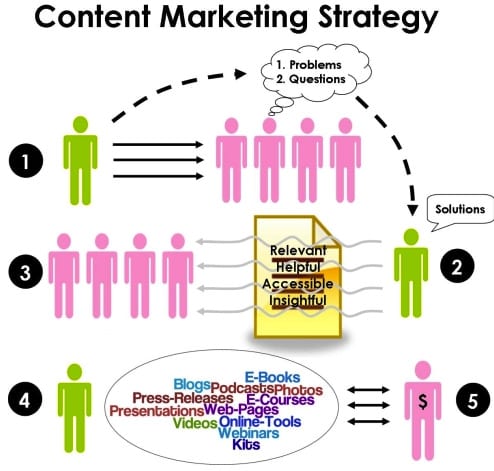 Summary
Don't leave the reach of your blog content to chance. Spending a little time promoting blog content will pay dividends over time by building traction and creating expectation.
The final post in this series on blogging for business looks at how to convert inbound blog traffic into leads.