The latest B2B marketing automation trends which will make an impact this year
Marketing Automation has been around for several years now, but in 2015 it really flourished. More companies got started with marketing automation, and others started thinking about how they could begin to use it in future. Our readers poll on 2016 digital marketing trends asking your views on the most commercially important marketing trend for the year ahead suggests that Marketing Automation has the biggest potential replacing Content Marketing from previous surveys. Google Trends also reveals a growing interest in Marketing Automation.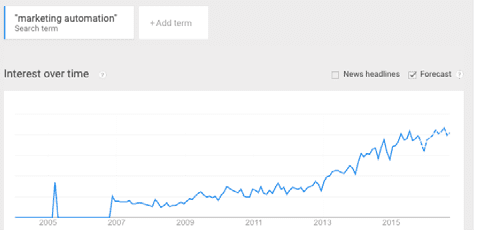 Marketing Automation has the potential to be extremely powerful, but only if  it is configured and implemented effectively. It is not a case of either using Marketing Automation or not using it.  The differences between a company using the most basic form of marketing automation and one using it at it's most advanced is likely going to be greater than the difference between one using it basically and one not using it at all.
Because getting marketing automation right is going to be so important for marketers we partnered with marketing automation software provider CommuniGator to conduct research into the current drivers and barriers to implementing marketing automation in the B2B sector. The results make for interesting reading, here's a summary.
Adoption of Marketing Automation
Perhaps surprisingly, nearly a quarter of B2B businesses are still not using Marketing Automation at all, which shows that the future potential to expand. Only 7% reported that they used all features of marketing automation and optimise them, which suggests an overwhelming majority still have a fair way to go to get better results with marketing automation.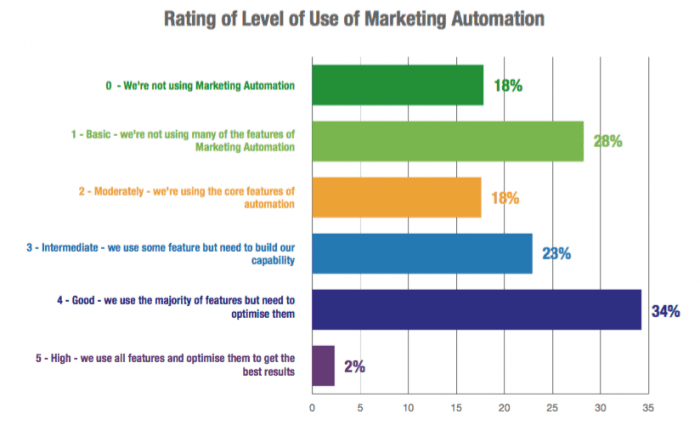 Knowledge of marketing automation
Marketer's knowledge of marketing automation also varied considerably, and was weighted heavily towards the basic end of the spectrum. Very close to half rated their knowledge of marketing automation as basic, whilst only 14% considered their knowledge advanced. Companies clearly need to invest in the skills of their staff in this area, possibly allocating time/budget for personal development or investment in training.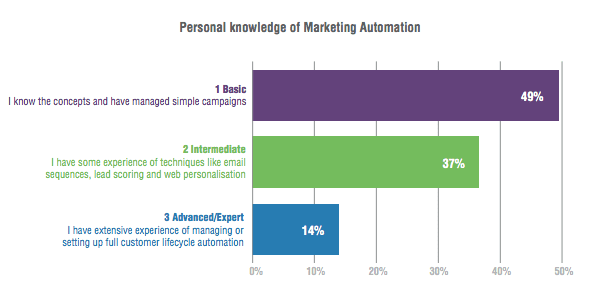 Smart Insights have several guides on marketing automation that may be of use for increasing marketer's skills in this area.
Use of different marketing automation techniques
Marketing automation is a big subject, with many different marketing techniques falling under the marketing automation umbrella. Because of this, the report also asked marketers which marketing automation tools they use and how effective they are finding them. Of those that were using the tools the vast majority were finding them moderately or highly effective. For example only 2% of those using personalised landing pages did not find them effective.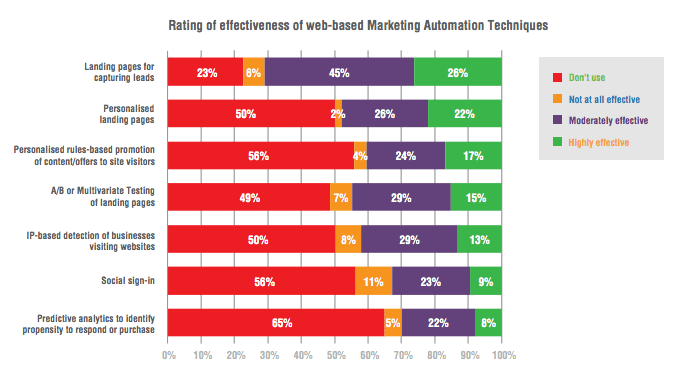 The biggest story in many ways is the amount to which these tools are not being used, despite the fact that those that do use them are generally finding them effective. Well over half aren't using predictive analytics to identify propensity to purchase, yet our research indicates that if these organisations were to use it, 85% of them would benefit.
This post has provided a peak into the use of marketing automation in the B2B sector. If you are interested in marketing automation trends download our full report, and get far more stats, graphs and analysis. The report is available to all members.